Valcke in Brazil 2014 World Cup infrastructure warning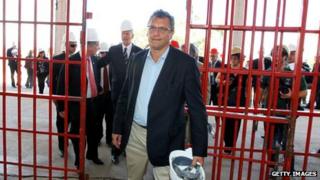 All 12 stadiums across Brazil will be ready for the 2014 World Cup, Fifa's general secretary has said.
But Jerome Valcke told the Soccerex convention in Rio that the vital wider infrastructure work was lagging behind.
Mr Valcke, overseeing progress on delivering the World Cup in Brazil, has highlighted a lack of hotels for the estimated 500,000 overseas visitors.
He also said that Fifa and the Brazilian football authorities now had a much better relationship.
Mr Valcke has angered Brazilian officials in the past by suggesting that the stadiums would not be ready.
Now he believes the risk of delay has moved on to such matters as the necessary number of hotels and vital improvements to airports and public transport.
'Solutions'
"In one unnamed city there are 17,000 hotel bedrooms and a 45,000 capacity stadium [for the World Cup]," he said at the Soccerex business of football event being held in Rio.
"But we have now moved from talking about the problems to talking about the solutions. We are able to find and answer the problems."
Brazil is spending $15bn (£9.4bn) on infrastructure for the World Cup, which includes everything from the 12 new or renovated stadiums, to new bus lanes and airport extensions.
The country's Sports Minister Aldo Rebelo also told the gathering that the country was aiming to use the World Cup to build a lasting legacy of economic growth and reducing social inequality.
The government's latest estimate is that the World Cup will boost the Brazilian economy by $90bn.