Rolling Stones: Still making money after 50 years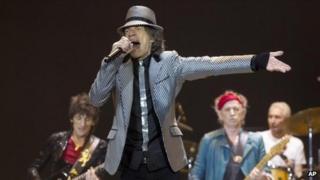 The first night of the Rolling Stones 50th anniversary tour at London's O2 Arena met with almost unanimously positive reviews.
Those who saw the show said the band has retained its raucous energy and was given a boost by guest slots from former members, Mick Taylor and Bill Wyman.
The Stones operate like a corporation, with a complex financial operation that handles hundreds of millions of dollars.
The last big Rolling Stones tour, called A Bigger Bang, sold 4.6 million tickets and earned $558m (£348m).
This year's outing is modest by comparison, comprising of just five gigs so far.
All the tickets sold out in minutes despite high prices. For the London shows, tickets range from £90 to £375 and a hospitality package costs nearly £1,000 per head.
The Stones have long sought to maximise the cash value of their music and performances. Mick Jagger said to Billboard magazine: "You might say 'the tickets are too expensive' - well, it's a very expensive show to put on, because normally you do a hundred shows and you'd have the same expenses." He also said he'd like to see the resale of tickets made illegal.
The Telegraph's arts correspondent Bernadette McNulty says: "I think they still enjoy playing but there's always been something really competitive about the Rolling Stones.
"I think they really like the idea of maintaining themselves as the biggest band in the world and proving that they can still do it. And making as much as money as possible is a way of showing they are really good at what they do. They are not ashamed of making money and never have been."
'Corporate status quo'
But what of the Stones' rebellious image - songs about murder, revolution and fighting in the streets? How does that square with their status as multi-millionaires, sponsored by multinational companies?
Marc Hogan, music journalist for Spin magazine, says the apparent paradox has always been part of the Stones' identity.
"The cultural conservative view of the 1960s is that all these radical rock'n'roll bands came along and corrupted the young with their rebellion," he says.
"But looking all these years later, you can see that view was wrong. The Stones have become part of the corporate status quo. Being rebellious doesn't mean they're rebelling against the capitalist system."
Hogan points out that Jagger attended the London School of Economics for a year before dropping out. He describes him as "a brilliant businessman".
The ticket money is not the only way the Stones are cashing in on their 50th anniversary. There's a new film, Crossfire Hurricane, and a hits compilation called Grrr that includes new songs.
Then there's the merchandising: everything from Monopoly sets to women's underwear. Products bearing the Stones' famous tongue logo have a timeless appeal.
Ten years ago, Stones guitarist Keith Richards said to Fortune Magazine: "You don't start to play your guitar thinking you're going to be running an organisation that will maybe generate millions."
Since then, many millions more have been added to his fortune. But for five decades, the priceless asset of the Stones has been their passion for music. Those attending this tour are paying to discover if that passion remains.