New Bank of England governor to be named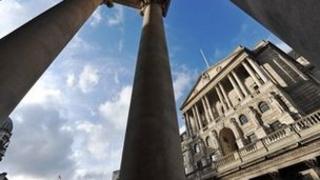 The new governor of the Bank of England will be announced to Parliament later by the Chancellor, George Osborne.
Current governor Sir Mervyn King steps down from the post next June.
A number of candidates, including deputy governor Paul Tucker and FSA chairman Lord Turner, have been linked with the job - seen as one of the most important positions in the UK economy.
The new governor will serve a fixed term of eight years and will hold new regulatory powers over banks.
Other candidates are reported to include Sir John Vickers, who led the government's recent review into breaking up the banks, and Santander bank's UK chairman Lord Burns.
The governor of the Bank chairs the monetary policy committee, which has responsibility for setting interest rates in the UK.
Following the government's decision to scrap the Financial Services Authority and hand some of its responsibilities to the Bank, the governor will also oversee important regulatory powers as well.
Mr Tucker, who has spent most of his career with the Bank, is seen by many as the favourite for the job.
The deputy governor hit the headlines this summer after being drawn into the Libor, inter-bank lending scandal. Bob Diamond, the ex-chief executive of Barclays who was forced to step down in its wake, said he had spoken with Mr Tucker about the bank's rates.
Mr Tucker strenuously denied putting any pressure on Barclays to alter its Libor submissions.
The announcement by Mr Osborne is expected to be made at about 15.30 GMT. The decision was originally due to be announced next month.