UK transport projects in slow lane, says BCC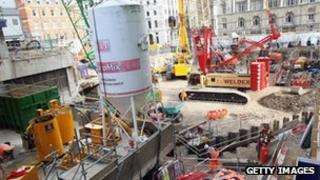 Economic growth is being hampered by too many UK transport projects being stuck in the "slow lane", the British Chambers of Commerce (BCC) has said.
Of 13 key schemes, three are going ahead, two have some funding committed, but the rest are on hold, it said.
Investment promised by successive governments remains slow, and "bold action" was needed, the BCC said.
But Transport Minister Norman Baker said he was confident the government was delivering.
Improving competitiveness
The BCC said: "While the government has taken important steps to boost infrastructure funding and delivery since the first budget, the updated assessment shows that too many transport projects, which are crucial to business growth, are stuck in the slow lane."
"We need bold action from the government to improve the UK's transport infrastructure," said BCC director of policy, Adam Marshall.
"This kind of investment is insulated from global uncertainty, and it creates short-term confidence, jobs in the medium term, and improves the UK's competitiveness in the long term".
The three projects going ahead are:
Birmingham Motorway Box: introducing new methods to allow variable speed limits and use of the hard shoulder at peak times on the M5, M6, M40 and M42, with work due to be completed in spring 2014;
Forth Replacement Bridge: replacing the current road bridge with a motorway-standard two-lane crossing, to be completed by 2016;
Crossrail, London: Work on the cross-London rail link is well under way and expected to be fully operational in 2019, improving capacity across the capital.
The 13 projects cost some £30bn of private and public sector money.
The pair of projects that are being planned but that have no deadlines include the so-called Northern Hub rail improvement, which the BCC says will bring £4m worth of benefits to the economy of northern England.
The other is the the A453 widening from junction 24 on the M1 to the A52 at Nottingham in the East Midlands.
The eight projects that have seen no progress include the proposed third runway at London's Heathrow airport.
However, Transport Minister Norman Baker said the government was doing its part.
"Making sure that the country has the transport network it needs to deliver economic growth is a top priority for us," he said.
Mr Baker highlighted the planned High Speed 2 new rail route, "substantial investment" to increase capacity on the East Coast rail route over the next two years, and £3bn to spend on road schemes.
"We are confident that the approach we are taking will deliver the infrastructure the country needs for business to flourish."