Wal-Mart suspends India staff members amid bribery probe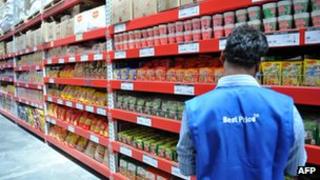 Wal-Mart, the world's largest retailer, has suspended a "few associates" at its joint venture in India amid an ongoing probe into bribery allegations.
Wal-Mart did not provide further details.
But various reports said the chief financial officer and members of the legal team were among those suspended.
The firm is conducting an investigation into possible violations of a US law that bans US firms from paying bribes to win or retain business abroad.
"We are committed to conducting a complete and thorough investigation. Wal-Mart and Bharti have suspended a few associates pending the outcome of the investigation," the company said in a statement.
Committed to India
The investigation comes as Wal-Mart is eyeing an expansion in the lucrative Indian market.
Earlier this year, India allowed global supermarket chains to invest in retail stores in the country.
Under the government's proposals, multi-national retailers such as like Wal-Mart, Carrefour and Tesco will now be able to buy up to a 51% stake in India's retailers.
The move had been strongly opposed by tens of thousands of small businesses and cornershops who fear they will be put out of business.
The government was initially forced to back down on retail reform after the cabinet first undertook to open up the retail sector last November, but revived the idea as a way to boost India's slowing growth.
Wal-Mart, which currently operates only wholesale stores in India via its joint venture with Bharti, has previously said that it plans to open retail stores within two years.
The firm said the latest developments will not affect its expansion plans.
"We are committed to the Indian market," a spokesperson said. "We remain excited about the opportunity to grow our business in one of the world's most vibrant economies," it said.
The US Foreign Corrupt Practices Act makes it a crime for US corporations and their subsidiaries to bribe foreign officials.
In April, the retailer said that it was investigating claims that its Mexican subsidiaries used bribes to secure permits to build new stores.
Wal-Mart said it is carrying out investigations in various other countries as well, including Brazil and China.