Brooklyn: New York City's hip start-up hub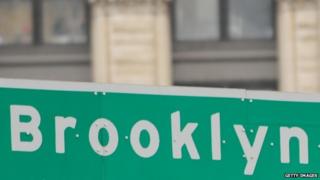 The New York borough of Brooklyn has become a hub for the Big Apple's cutting-edge crowd - and among them are a new generation of entrepreneurs kick-starting successful new businesses despite the economic gloom.
"I would come home from work, grab a quick bite to eat, then go off to make sodas till three or four in the morning, and go back to work again later," recalls medicinal chemist Antonio Ramos.
"We did this for the first two years, seven days a week, evenings, everything."
Joining Antonio in his gruelling schedule was his partner, Caroline Mak - an installation artist.
They first started selling their sodas to friends - sparkling juices with flavours such as grapefruit, jalapeno and honey, and lemon, thyme and green pepper. They then expanded their market with a stall at the Brooklyn Flea Market.
"They trudged over to my old apartment in a snow storm. They were making their sodas at home, and were not food professionals," says the market's co-founder Eric Demby, who still remembers when they turned up with their soda samples asking for a pitch at the market.
"I knew that they would make something of themselves. It's like when you are dating. You know pretty quickly if this could be something."
Brooklyn Soda Works, as the company became known, still sells at the Brooklyn Flea, but is now also selling to bars and restaurants.
The company is part of a broader creative revival in Brooklyn which includes a range of hip, young start-up companies making artisan products, such as sodas, through to hand-made furniture.
The borough used to be famous for its large-scale manufacturing and was home to companies like the pharmaceutical giant Pfizer - the US Navy Yard also employed thousands of people. But in recent decades, many factories closed down, and tens of thousands of Brooklyn's industrial jobs were lost.
Keeping it local
As a result, commercial real estate became easily available - and much cheaper than Manhattan. Perfect for start-ups. In turn, markets like the Brooklyn Flea have become incubators for small businesses - a boon during the recent economic downturn.
"Considering the way the American economy has gone the last years, we are the silver lining over a pretty dark cloud," says Eric Demby.
"Our businesses are doing well... hiring people locally, and buying most of their goods and services locally."
Brooklyn Soda Works is now located in the old Pfizer building on Flushing Avenue in Brooklyn's Williamsburg district. The enormous former pharmaceutical factory now houses other artisanal food start-ups, too - among them is Kombucha Brooklyn.
Eric Childs had been drinking kombucha for years - a fermented tea - and was looking for a commercial opportunity a few years ago. After seeing a few other people drinking kombucha on the New York subway, he and his wife Jessica decided to set up a business making and selling his favourite drink.
Kombucha Brooklyn was born, and not long after some big customers came knocking.
"I will never forget the day I got the call from Wholefoods. I was still only making 10 cases a month in my apartment, and they said 'Oh, we'll take a thousand'," Eric says.
Eric and Jessica were far from ready to supply such a big order - mainly because of cash flow problems. To supply a thousand cases of Kombucha, the business needed to buy the bottles first. Retailers do not pay in advance, and in the wake of the economic crisis, banks have been unwilling to lend to start-ups.
Eric had some cash - $5,000 (£3,500; 3,795 euro) he inherited from his late grandfather, and he also relied on credit cards and loans from friends and family.
"It's an inverted pyramid," says Jessica, "your expenses grow before your income does. It needs a lot of juggling."
But she takes it in her stride: "It's creative, bouncing credit here and there. And it's about proper planning and decision-making."
It took Eric and Jessica two years to grow their business to a point where they could supply orders on the scale asked for by Wholefoods - but fortunately, the food giant was happy to wait for them.
Hope for growth
Kombucha Brooklyn now employs eight staff - but can these small start-ups ever replace the hundreds - thousands - of manufacturing jobs that have been lost in Brooklyn over the years?
"I wouldn't call it an industrial revival," says Ronda Kaysen, a real estate journalist who writes for the New York Times.
"I would call it an effort to stop the bleed of jobs. This might be the best that the city can do at the moment. It's better than to turn the [Pfizer] building into luxury homes. The hope is that these companies can grow."
People's Pops is another new business working out of the Pfizer building. It sells ice lollies made from locally sourced fruit and herbs and employs up to 25 people in its peak summer months.
It, too, is an alumnus of the Brooklyn Flea, where former waitress Nathalie Jordi set up what she thought was going to be a one-day stall, for fun.
However, the ice lollies - or "pops" - proved so popular that she set up a business, with friends Joel Horowitz and David Carrell. They finally made People's Pops their full-time job two years ago.
"That was a big leap," says David Carrell.
"We quit our jobs and signed our first lease on the same day, losing our funding and taking on new liabilities at the same time."
But it has been worth it, they say. They now have four People's Pops shops, and continue to sell at weekly markets and catering events.
In the peak summer period, they make more than 10,000 ice pops a week - although have made some concessions to mechanisation by installing an industrial-scale sealing machine, rather than seal each lolly by hand.
But is this the slippery slope to standardisation, which would dilute the company's product?
Nathalie Jordi denies this emphatically: "What I don't want to standardise is what will affect quality - like tasting and mixing.
"At the beginning of the season, fruit can be tart, and need more sugar. And later, it can be very ripe, and need less... you can't just follow a recipe, you have to taste."
Right now, Brooklyn seems just ripe for new businesses. The borough has lots of small companies started by people with an idea and passion - or just a need to find work, not least in the wake of the economic downturn.
For the time being, commercial rent remains relatively cheap compared to Manhattan and nearby New Jersey - while the Pfizer building is full of tenants, that cannot be said for all of the former factories in the borough. There is still room for improvement, though.
"For manufacturing, what's difficult, is the infrastructure is very old and antiquated. And that's something that needs to be addressed," says journalist Ronda Kaysen - but she concedes the borough's creative climate is compensation for what it lacks.
"Brooklyn has experienced a huge renaissance. It's become this vibrant, hip, chic trendy place - the 'It' place to be - and for manufacturing, it's cool to have Brooklyn in your name."
Hear the full report on Global Business on the BBC World Service. Listen again via the World Service website or World of Business podcast.