Viewpoint: How Sony slipped back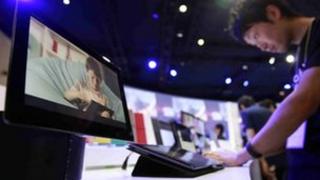 Ratings agency Fitch has downgraded Sony and Panasonic bonds to "junk" status. Together with Sharp, these three former tech titans lost more than $20bn (£12.5bn) in the last year, triggering layoffs and cutbacks that have led to the downgrade.
One might be tempted to see this as a sagging sector, yet Samsung continues to thrive. So what happened?
The answer, in Sony's case, is instructive, because it tells us not only about the slide of one company, it explains the rise of others who now have far more power than Sony ever did.
The sad thing is, Sony should have been one of them, but it's not because the company failed to transition from device maker to platform builder.
The technology world is run by five companies that I call digital platforms - Amazon, Apple, Facebook, Google, and Microsoft.
These are companies that have daily interactions with their customers, providing a platform on which thousands of what I call digital disruptors deliver meaningful customer experiences, ranging from the Delta Airlines travel app to Pinterest to Lose It!
The list is short for a reason - the market doesn't need more than a handful and these companies who work very hard to ensure that they are hard to compete with, constantly enhancing their platforms and tying consumers to ever-deeper relationships through new devices and services, many of them at cost or free.
But the list didn't have to feature these five companies. Sony could have - really, should have - been among them.
Not the device
In 2000, Sony's stock traded on the New York Stock Exchange at a high of approximately $140, compared with its current price around $12. Not incidentally, that overvaluation of Sony was wrong.
But Wall Street valued Sony incorrectly for the same reason that Sony continued to misunderstand its own value: In 2000, Wall Street and Sony both believed that Sony was a device maker and that ever-improving devices would rule the world.
The truth has turned out to be more powerful than that. Devices are merely servants, connected to the broadband networks that more than three-quarters of US homes have, or wirelessly connected to the home networks or coffee shop hotspots that have doubled in use since tablets came around.
But even this fact was misread by people at Sony. Sir Howard Stringer himself boasted on stage at the CES 2009 electronics event that 90% of Sony devices would connect wirelessly by 2011.
That still misses the point. A platform world teaches us this truth: it's not the device that matters, it's not even the connected device that matters. It's the connected experience that matters.
That subtle shift makes all the difference. It's this fact that Sony missed that shift that has led the company to miss its shot at platform power.
Look back at Sony's position in 2007, when it was still worth $50bn. The company was sitting on assets that could have been connected into a digitally disruptive platform experience.
It had the leading game console at the time, it had a phenomenally successful portable gaming device, it had the most respected TVs in the market, its cameras were doing brisk business and it had a line of computers that were sufficient.
But Sony failed to understand that these were more than just devices. Convinced that its success had come by focusing on engineering, the company continued to invest in each of these lines of business as if they each had to be the next big thing in their category, instead of turning these devices into a platform on which consumers could build their lives and on which digital partners could create and deliver new value.
Change the mindset
So the company built a better games console. It built a better portable gaming device. It built more sophisticated TVs - including one of the first Connected TVs, well ahead of the market. Shouldn't that have ensured the company's success?
In 1990, maybe, but not in 2007 and certainly not today. Building better devices - even connecting better devices - doesn't do nearly as much as building digital experiences that happen to be tied to Sony devices.
So Microsoft turned the Xbox 360 into the dominant games console, not by making a better gaming machine, but by giving people a platform for getting more out of their living room.
Mobile phones took over gaming by creating app ecosystems that encouraged rapid and cheap development of new gaming experiences.
And Apple and Amazon took over the media business by focusing on the relationship they have with the customer, delivering the right content to the right device at the right time. Ironically, some of the content those platforms deliver is produced and distributed by Sony Pictures.
The company is nowhere close to the end of its road. Cutting back staff while staring a shrinking market cap in the face may be painful, but it's not a deathblow.
But for Sony to turn itself around - to become meaningful again in the lives of its consumers - it must shed its self-perception. It must stop thinking like a device maker and start thinking like an experience creator, one that builds platforms for consumer engagement, one that freely enables consumer choice rather than tying it down.
It's a big ship to right, but such a turnabout will depend not on engineering prowess or big investment. It will, instead, depend on changing the company's mindset first, and letting the digitally disruptive behaviours follow.
James McQuivey is a vice-president and principal analyst at Forrester Research and is the author of the upcoming book, Digital Disruption. The opinions expressed are those of the author and are not held by the BBC unless specifically stated.