EU budget: Small storm in large tea-cup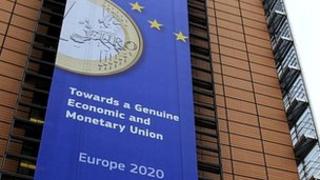 "A big fuss over nothing". That is how many EU budget experts have described today's fight between the UK and the rest of Europe.
David Cameron would beg to differ. But you can see why Brussels pointy heads would be bemused by the Prime Minister's "line in the sand". If he loses this epic battle, the very worst that could happen is that the UK's contribution to the EU after 2013 will rise by around £500m a year.
That's not nothing. But, as John Springford has pointed out, from the Centre for European Reform, it's the equivalent of about 0.03% of our GDP - roughly the annual budget of Oxfordshire County Council.
Any increase is unwelcome, but that £500m is not just small relative to Britain's economy, it's small relative to the increase we have already seen in Britain's net contribution to the EU. Our net payment more than doubled between 2006 and 2011, from just under £4bn to more than £8bn.
We are unlikely to see anything like this kind of increase in the next few years - in fact, our net payment in 2012 is likely to fall by around £1bn this year, largely as a result of the economic slowdown. That's the key point to remember: the ups and downs of our economy, relative to the rest of the EU, will have a much larger impact on our net contribution to the EU over the next few years than today's argument in Brussels.
That may be, say UK hardliners, but it's the principle that counts. The EU should not be expanding its budget in real terms, when governments across the continent are cutting back.
You can see why they would think this point of principle is important. Luckily for David Cameron, the definition of a "real cut" or a "real freeze" is wonderfully flexible.
As I said on the Today programme this morning, to understand whether David Cameron has "won" or "lost" in Brussels, you need to know exactly what the budget is now, what it would be look like if it were held constant, allowing only for inflation (a "real freeze") - and what, precisely, has been agreed for 2014-20.
The bad news for us journalists is that all three of these numbers are subject to enormous interpretation. For example, the European Commission's initial proposal for a ceiling of 1033bn euros excludes 30bn euros in spending which has to be accounted for somewhere. President Rompuy's proposal cuts 75bn from the Commission's plan, but includes that extra spending, so the numbers don't really add up.
Another wrinkle is that the UK Treasury has also chosen to set 2011 as the base year for calculating the "frozen" budget - not 2013, which might seem more natural and would allow a larger number than the 886bn euros the Treasury has been insisting on.
Of course, that bad news for us is good news for David Cameron. A small - entirely "reasonable" - tweak in the definition of a freeze could pave the way for a great victory for the UK. But whatever happens, he knows that the change in our contribution to Brussels is likely to be, well, small change.