Bank of England's Mervyn King: Banks' culture changed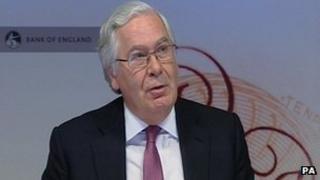 The head of the Bank of England, Sir Mervyn King, has told MPs that the culture at the big investment banks has changed.
Sir Mervyn told the Parliamentary Commission on Banking Standards that the economics of banking had altered.
He said that was also changing the risk-taking culture of the big banks.
But the governor said that it would still be necessary to "ring-fence" everyday banking from more risky investment activities.
That move was recommended by the Vickers report into banking that was released last year.
The Bank of England is taking over regulation of the banks from the Financial Services Authority next year.
The Commission on Banking Standards was appointed in July, following the Libor scandal and other episodes that damaged the reputation of banks in the UK.
Disagreement
Sir Mervyn told the commission: "I feel that the economics of investment banking is changing - has changed considerably - and that itself is driving the new generation of leadership in banks to recognise that it is in their own interest now to change the culture."
He added that that was not enough to stop any move towards separation of retail and investment banking.
But one of his two deputy governors, Paul Tucker, who is widely tipped to take over when Sir Mervyn retires next year, said he did not "completely" agree with his current boss on separating retail and investment banking fully.
"The thing that has worried me most about this debate from the beginning... is that people fall into thinking 'if only we could make retail banking safe, the financial system will be safe' and frankly I think that is nonsense," Mr Tucker said.
"Even if we were to go to full separation, the challenges of culture in retail banking stem in part from infection from investment banking but I don't think they arise entirely from that.
"There's been an industrialisation of high banking. They've drifted away from relationship banking, branch managers are much less empowered than they were 20 or 30 years ago and that is a major problem of culture change in its own right - irrespective of what happens to global investment banking."
Sir Mervyn also said that the regulator needed to be clear about how to safeguard everyday banking from contamination by a bank's more risky activities.
He said there should be firm rules, otherwise it would be left to the regulator to decide how it should work, which would leave it vulnerable to pressure from the banks themselves.
"I think it would be wrong to leave it purely to the discretion of the regulator, because that would increase the pressure of lobbying of banks directly on the regulator and indirectly on the government and parliamentarians."
But he warned against putting in place detailed rules on how this should work, saying if the new rules did not end up working as they were supposed to, they would be difficult to revise.
"I think it would be mistaken to have too much detail in primary legislation, because that's notoriously hard to amend."
'Lessons to learn'
Sir Mervyn's appearance, with his two deputy governors, follows one by the Chancellor, George Osborne, on Wednesday.
Mr Osborne then called on MPs not to "unpick" a consensus on structural reform of the banking sector, including how to separate retail and investment banking operations.
The commission will present its interim report on professional standards and culture of the UK banking sector before the end of the year.
It will outline "lessons to be learned about corporate governance, transparency and conflicts of interest, and their implications for regulation and for government policy".
So far, it has heard evidence from major figures in the banking sector.
Evidence has included a warning from RBS boss Stephen Hester that ring-fencing banks' retail and investment arms could raise the risk of institutions needing to be rescued, but the head of Barclays Bank said he was embracing the ring-fencing move.