Daily Mail & General Trust profits rise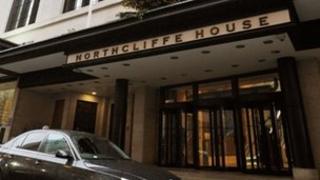 The Daily Mail & General Trust (DMGT), which owns the Daily Mail, said its profits rose by 10% through improving productivity and efficiency.
Pre-tax profits rose 10% to £255m for the 12 months to the end of September.
The results include earnings from its regional newspaper division, Northcliffe Media.
On Wednesday, it said it had sold those titles to Local World, a newly-formed company led by a former chief executive of the Mirror Group, David Montgomery.
Revenue for the DMGT fell by 1% to 1.96bn.
The group's chief executive, Martin Morgan, said the result had been achieved against a backdrop of a weak UK economy: "Although our UK consumer businesses were impacted by challenging trading conditions, it was particularly pleasing that Associated [Newspapers, the division that owns the Mail newspaper titles] was able to grow its revenues by 2% on an underlying basis."
He added that profits for the consumer businesses rose by 12%, reflecting greater productivity and efficiency linked to continued digitisation in that division.