Rupert Murdoch sells $10m in News Corp shares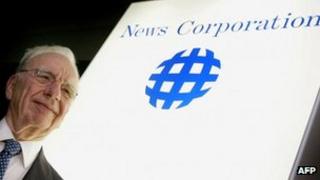 Media mogul Rupert Murdoch sold just over $10m (£6.3m; 7.9m euros) in News Corp shares earlier this month.
Mr Murdoch sold 418,631 Class A shares at just under $24 each, according to a regulatory filing, which is about 5% of his family's total stake in the media firm in Class A shares.
The Murdochs control about 40% of News Corp through Class B shares, which have more voting rights.
Shares in News Corp have soared 34% this year, despite the hacking scandal.
In August, Mr Murdoch bought more than 177,000 shares and sold 182,539 shares worth $4.25m. That was his only other share transaction in his company this year.
The company recently said that its net profit for the three months to the end of September was $2.3bn, almost three times what it made a year earlier.
After a difficult year because of the phone-hacking scandal in the UK, many shareholders voted last month to separate the roles of chief executive and chairman, currently held by Mr Murdoch.
But because the family holds 40% of the voting rights, the notion was rejected.
News Corp is likely to split its entertainment and publishing businesses, with Mr Murdoch to chair both companies.
His son, James Murdoch, works at News Corp and is deputy chief operating officer. He resigned as chairman of UK broadcaster BSkyB in April but remains a non-executive director.