Network Rail debts and profits rise again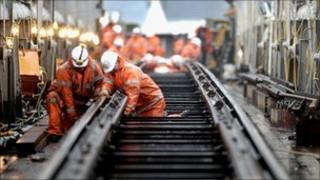 Network Rail, which maintains Britain's rail track and signalling system, has reported flat profits but higher debt over the past six months.
The company's net debt rose to £28bn, from the £27.2bn level at the end of March this year.
Operating profits were flat at £1.23bn, unchanged on last time.
Network Rail said it had expected debt levels to rise, because it had increased its investment in the network.
It said that the country's rail network was valued at £45.3bn, compared with £43.1bn last time.
The business's debt is guaranteed by the government.
Passenger numbers were up by 5%.
The number of rail users has been rising by that amount for the past 10 years and the company expects the growth rate to stay at that level.
Network Rail's finance director, Patrick Butcher, said: "The railway continues to see strong traffic growth which provides us with the challenge of getting the balance right between capacity, reliability and efficiency."