Kettle Chips ex-boss repays bonus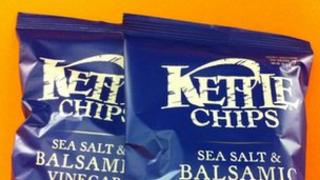 The ex-boss of the US maker of Kettle Chips has agreed to repay two years' bonuses after an accounting scandal.
Michael Mendes was suspended as chief executive of Diamond Foods in February, as was the head of finance Steven Neil.
An internal investigation uncovered irregularities, prompting the firm to restate its finances for 2010 and 2011.
Mr Mendes has formally left the firm on no severance pay and will repay bonuses from the two years worth $2.7m (£1.7m) along with 6,665 shares in the company.
The clawed-back bonuses will be deducted from a $5.4m payment that Diamond Foods is contractually required to make to Mr Mendes' pension fund.
The shares were worth $86,500 based on Diamond Foods' closing share price on Wednesday.
However, the company's share price has fallen by 85% since its peak in September last year, just before claims first began to circulate that payments to walnut farmers were not being booked correctly.
At their peak, Mr Mendes' shares would have been worth $600,000.
An audit team brought in by Diamond's interim management found that certain payments to farmers and other items had been accounted for in the wrong years, artificially inflating the company's bottom line in 2010 and 2011.
Correcting the mistakes forced it to knock $17m off its 2010 pre-tax profits, and $39.5m off its 2011 figure, halving its reported profits over the two-year period.
It also lost Diamond a potentially lucrative agreement to buy the Pringles brand from Procter & Gamble.
As well as Kettle Chips, Diamond Foods also manufactures Emerald nuts and Pop Secret popcorn.
Mr Neil was also dismissed with no severance pay.
Brian Driscoll, the former head of Hostess Brands, took over as chief executive in May.