Life after Ireland's bailout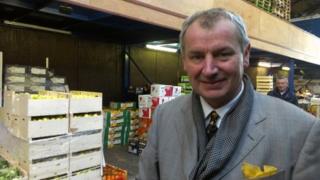 It is half past five in the morning and Dublin's Corporation Fruit Market is a hive of activity.
Forklifts whizz past, loaded with pallets of fruit and veg. Workers shift boxes of flowers, potatoes and cauliflower.
But all the hustle and bustle belies the underlying sentiment of despair.
"Sales used to be good," says market trader Pat Martin. "Now we're just surviving."
Dublin's market has suffered just as much as the rest of the country in the austerity drive that followed the Republic of Ireland's economic crisis and bailout two years ago.
The long waiting list of prospective stallholders has disappeared and these days many of the units here are impossible to fill.
"Even with Christmas on its way, business isn't the same," says potato-seller Derek Leonard.
"It seems Santa's on a diet."
Fleeing Ireland
Ireland's difficulties date back to a housing sector crash and a banking crisis in the wake of the collapse of US finance house Lehman Brothers in 2008.
But for many here in Dublin, the difficulties were only felt after - rather than before - the country was bailed out by Brussels two years ago.
Ireland was given almost 80bn euros (£68bn) to keep it ticking over, but the cash came at a price.
Austerity cuts of 15bn euros were demanded, sparking job cuts and price rises.
The knock-on effects have been harsh.
"It's borne out in key economic indicators," says Dearbhail McDonald, journalist and author of Bust, a book about the economic collapse.
"Unemployment is running at 14%. There's more than 420,000 unemployed, and half of those are long-term unemployed.
"It's also there in other indicators: One in 10 mortgages being restructured and a significant cohort in long-term arrears of six months or more."
Some areas of the economy, most noticeably exports, are doing reasonably well at the moment.
But in spite of this, the domestic economy remains weak.
So after a number of years that saw an influx of migrants who helped the Celtic Tiger roar on, these days people are fleeing Ireland in droves.
"Some 87,000 relocated in the last year, according to reliable figures, and a significant portion of those were going to the UK," says Ms McDonald.
Anger voiced
Back in Dublin, the main shopping area seems busy, with crowds thronging Grafton Street, but inside the shops the tills are not ringing. It seems most people are simply window shopping.
Things are tight for taxi drivers, shop owners and cafe staff too, as ordinary people keep paying the price of the bailout.
"Business has been terrible," says John Corcoran, owner of Korky's Shoes. "Turnover's falling, margins falling."
Mr Corcoran worries about the future, with economic growth remaining elusive and further significant budget cuts and tax rises looming.
"Customers are spending less and looking for value, they'll only buy if it's very cheap," he says. "Disposable income has dried up."
Economic questions are set to continue to dominate headlines here ahead of the budget on 5 December, with many people taking to the streets to express their concerns.
One such rally in Parnell Square will object to proposed property taxes. One protester says ordinary people are not the only ones who cannot afford to pay more.
"Even some of the rich say they're suffering," he says.
"Mind, some of them still have plenty."
Asking for help
As daytime turns to dusk, Dublin's could be a tale of two cities.
In one of the city's four-star hotels, a black tie and champagne bash for the business elite goes on into the early hours. In the upmarket store Brown Thomas on Grafton Street, Tiffany's is holding a private party where staff dressed as 1920s flappers tote canapes. Up the road off St Stephen's Green, the Good Food Ireland awards are held.
And all the while, out on the street a homeless man is begging for money to pay for a hostel for the night.
The Twist soup kitchen is busy too, having seen its "customer base" grow dramatically in recent months.
The fallout from the austerity measures - frozen wages, soaring unemployment and public service cuts - has been huge, according to Twist's founder Ollie Williams.
It is not just mothers and children, students and people who have lost their homes who are heading for the food bank, he says. These days, even lawyers and accountants are asking for help.
Even Irish President Michael D Higgins has started flying no frills airline Ryanair to set an example.
Baby boom
The Irish people, meanwhile, have responded to the crisis by retreating to their homes, in sharp contrast to more violent street protests seen in other European countries.
And it seems they have kept themselves busy.
"It appears people have been making love, not war," says Ms McDonald
"When the lights went out with the bailout we did get by, and one area of growth has been babies.
"Irish women have been doing well in terms of population growth - they're having 2.1 babies up from an average of 1.9.
"But it may be some time before we see the effects of that boom."