Hewlett-Packard: What next after its latest crisis?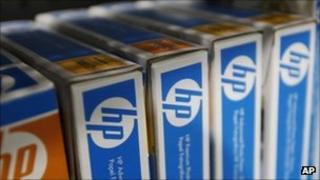 From a one-car garage in Palo Alto, California, Hewlett-Packard (HP) gave birth to Silicon Valley more than seven decades ago, inspiring an entire generation of tech entrepreneurs.
In a well-known anecdote about the generosity of its founders, 12-year-old Steve Jobs once phoned Bill Hewlett for parts he needed in a school project. His wishes were granted and after landing a summer job at HP he went on to found Apple, the most valuable company of all time.
"I had always loved the company, seeing it as emblematic of technology, entrepreneurship and the Silicon Valley spirit," says Paul Kedrosky, a Canadian venture capitalist who was once offered a job at the iconic company. "That is, sadly, no longer the case on any of those dimensions."
Today, HP is "declining, adrift, and increasingly desperate, relying overly on CEO changes and risky acquisitions to turn around its flagging share prices and market value," he says.
The recent debacle surrounding HP's data analytics subsidiary, Autonomy, is only the latest in a string of crises to hit the 73-year-old company, which has struggled to retain an edge in every market it was once a leader in.
'Lost its way'
HP shares are down 54% since the beginning of the year, and tumbled to a 10-year low on Tuesday amid an alleged accounting fraud involving the UK company.
HP has steadily given up its leadership in PCs and IT services, having been slow to capitalise on the runaway popularity of smartphones and a fast-growing niche for 'big data', which helps businesses handle and make sense of vast volumes of data.
The company has also been unable to fend off nimbler rivals from China and South Korea.
Revolving-door CEOs gave investors the impression "it had lost its way" says Richard Holway, chairman of TechMarketView, an IT analysis firm.
Hewlett-Packard "is being attacked from all directions. They have limped through one bad acquisition to another. It's sometimes very difficult to understand what their strategy is going to be from one month to another, and that has been extremely worrying for investors and shareholders," he adds.
"Tech companies that were big 20-to-30 years ago are finding it extremely difficult to regenerate themselves. HP seems to be going that way."
In October, Gartner Research said that China's Lenovo had overtaken HP as the number-one maker of PCs.
Meanwhile Samsung and Apple are leading in tablets and smartphones, while IBM has successfully positioned itself as a software giant after selling its PC unit to Lenovo.
HP tried to catch up with IBM by buying Autonomy, whose Cambridge-educated founder Mike Lynch developed so-called 'meaning-based computing' that could look at vast volumes of disparate data and extract meaning from them. But some industry experts questioned its value.
'Dysfunctional'
"As an industry analyst I couldn't fathom how it could be a billion-dollar business," says Alan Pelz-Sharpe of 451 Research, who first circulated a warning note to industry insiders after the $12bn takeover deal in October 2011.
"It didn't have the visibility. It's very good technology, but there was a huge disparity between what it was worth and what HP paid for it."
Since its acquisition of PC group Compaq in 2002, HP has faced a rocky road, and analysts point to a "dysfunctional" board and management.
The company has seen three CEOs since 2010. It oversaw the 2010 acquisition, then the spin-off a year later, of smartphone manufacturer Palm, whose webOS mobile operating system failed to compete in the face of Apple's iPhone and Google's Android devices.
Then, HP's $14bn (£9bn) buyout of its struggling IT outsourcing arm EDS in 2008 led to a massive $8bn write-down in August, prompting speculation of a sell-off.
In the latest debacle, HP on Tuesday said it was forced to write off $5bn in its latest quarterly accounts after accusing Autonomy of inflating its value. The former management team of Autonomy has "flatly rejected" the allegations.
"When I talk to investors, that is what they are concerned about: the credibility of the board," says Shaw Wu, an analyst at Sterne Agee. "There already has been a lot of turmoil at this company, but maybe they still need more change."
Topeka Capital Markets analyst Brian White in a research note called for a new purge of HP's board.
But experts have not completely written off HP.
"This is the worst of its write-downs," says Mr Pelz-Sharpe of 451 Research. "Now all of the junk and the mess is out.
"They have good technology, and the hope now is that HP can sort-of embed Autonomy's technology [in its core business]. I think they can leverage it quite well. I think they can rebound."
Mr Holway of TechMarketView says that the only way for HP to revive itself is to get rid of unprofitable businesses - much like IBM - before it is too late.
"Sometimes, to be reborn, you first must die," he says, quoting a Chinese proverb.