Savings rates depressed by Funding for Lending Scheme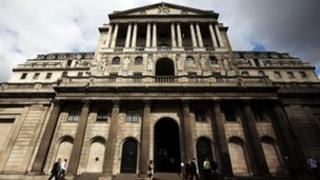 Interest rates on savings accounts have been depressed by the government's Funding for Lending Scheme (FLS), according to Moneyfacts.
The Bank of England scheme is channelling cheap money to borrowers, to stimulate the economy.
Moneyfacts says the side effect is that lenders do not need to compete as much as before to attract savers' money.
Since FLS started in August, average interest rates have dropped across all types of short-term savings accounts.
"The immediate knock-on effect has been the collapse of savings rates across easy access notice accounts and fixed bonds," said Sylvia Waycot of Moneyfacts, the financial information provider.
"As yet, we are still waiting to see any increase in the number of high loan-to-value mortgages on offer."
Moneyfacts' analysis shows that since the FLS scheme started on 1 August this year, average savings rates have fallen:
from 1.08% to 0.96% for easy access accounts holding up to £10,000.
from 1.38% to 1.19% for notice accounts holding up to £10,000.
from 2.74% to 2.24% for one-year fixed rate accounts holding up to £10,000.
from 1.76% to 1.59% for easy-access cash Isas.
from 2.82% to 2.42% for fixed-rate cash Isas.
Some easy access savings accounts have simply been withdrawn by banks and building societies altogether.
Cheap money
FLS was devised by the Treasury and the Bank of England with the aim of providing as much as £60bn to banks and building societies at cheap rates, so long as the money is in fact lent to customers.
The hope is that this will help kick-start economic growth, which has stagnated in the past year, and which has been characterised by a substantial shrinkage in the amount of new lending to, and borrowing by, non-financial companies.
The only discernable positive effect of the scheme so far has been a slight increase in the number of mortgage deals available, but only to borrowers with large deposits to put down, analysts say.
At the beginning of November, Moneyfacts reported that more than two-thirds of the mortgage deals on offer in the UK still required a deposit of at least 20%, a proportion that had hardly changed since a month earlier.
Earlier this week, the Council of Mortgage Lenders said the main effect of FLS so far was to make fixed-rate mortgage deals, which account for about two-thirds of all new mortgage borrowing, a bit cheaper than before.
The Bank of England will publish its first assessment of the impact of FLS on 3 December.
The latest figures from HM Revenue and Customs show that completed property sales in the UK bounced back to 89,000 in October, from 76,000 the previous month.
That was 14% more than in October last year and reinforces the trend which has seen home sales rise by 7% in the first 10 months of the year, compared to the same period last year.