George Osborne calls for bank reform action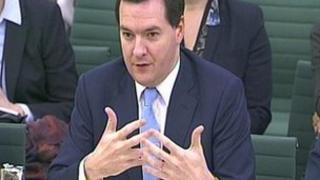 Chancellor George Osborne has urged a commission studying banking standards not to send proposed reform "back to square one".
He called on MPs on the Parliamentary Commission on Banking Standards not to "unpick" a consensus on structural reform of the banking sector.
Planned new laws would see the retail sections of banks ring-fenced from their investment arms.
But he said there were complications deciding which areas to separate.
'Consensus'
The Parliamentary Commission is looking into banking standards and culture after the Libor affair.
It was set up by Mr Osborne, who urged them to consider the dangers of suggesting an entirely different approach to proposed legislation.
"We are now on the verge of introducing groundbreaking legislation. I don't think this is the point to say, you know what, let's go back to square one," he said.
"We have got that consensus, let's get on and implement it, let's get on and legislate for it, instead of getting to the top of the snakes and ladders board and then going all the way down the big snake that takes you to the bottom again."
The proposed legislation is based on recommendations made by the Independent Commission on Banking, chaired by Sir John Vickers.
This commission, which was set up by the coalition government to review the banking sector after the financial crisis, published its report in September 2011 after looking into ways of avoiding bank failures in the future.
It recommended that a bank's retail business should be ring-fenced from its investment business by 2019.
But the chancellor's warning about "pressing the stop button" on implementing these changes was questioned by one member of the commission, Labour's Pat McFadden.
"You gave us the job of going over the ground and I suspect if you were sitting on this side of the table, you probably would not take too kindly to a chancellor or government minister saying, 'I want you to look at that but I don't want you to look at that,'" he said.
He said there were too many gaps in the proposed legislation which would allow banks to find ways around the ring-fencing rules.
And, after the hearing, shadow Treasury minister Chris Leslie, said: "George Osborne is wrong to claim there is a cross-party consensus on banking reform.
"Labour has said we want the letter and spirit of the Vickers proposals to be fully implemented, but the chancellor is watering them down. As we warned earlier this year, if the government and banks do not deliver the radical cultural change that we need, we will need to go further and legislate to break up High Street and investment banks."
New entrants
During nearly three hours of evidence, Mr Osborne indicated that he wanted a professional standards organisation set up to keep banking behaviour in check.
Crisis jargon buster
Use the dropdown for easy-to-understand explanations of key financial terms:
AAA-rating
The best credit rating that can be given to a borrower's debts, indicating that the risk of borrowing defaulting is minuscule.
He said more needed to be done to monitor the industry and suggested replicating systems used in teaching and medicine to keep standards high.
Cultural problems existed in retail and investment banking. Scandals such as the mis-selling of payment protection insurance (PPI) showed that bad practice was not just an infection from investment banking, he added.
He wanted to make it easier for new entrants to enter the High Street banking sector.
The City watchdog, the Financial Services Authority (FSA), would make announcements in the next couple of months about making it easier for potential new entrants to get a banking licence, he said.
However, he added that he believed the survival of big banks was good for UK society.
"If we aggressively broke up all of our big banks, I am not sure that, as a society, we would benefit from it," he said.
"There are still a lot of big banks operating in other countries. I think it is important for the UK that our largest private sector industry thrives, survives and grows, employing very large numbers of people across the UK.
"I want Britain to be the home of big successful banks. I think it would be a real shame if we were saying to the likes of HSBC that they can't locate themselves in the UK. I think that would be a mistake for us as a country. I think we have to strike the right balance."
There were some complications over what should be included in a ring-fenced arm of a bank and what should be outside, the chancellor told the commission.
This included derivatives - not all of which were exotic financial instruments used in the City, but more simple products used by people such as farmers to protect their incomes, he said.
The commission will deliver an interim report in December and a full report in the new year.
Following the hearing, Andrew Tyrie, who chairs the commission, said: "The chancellor accepted that structural reform can make an important contribution to improving standards in the banking industry. This echoes much of the evidence that has been put before the commission.
"Standards and culture did not appear in the remit of the Vickers Commission, but it does in ours. We will examine these proposals in the light of that remit.
"If we are to do our job properly, we must have the necessary detail. Much of this morning has been spent attempting to elicit it."