Ben Bernanke warns fiscal cliff 'substantial threat'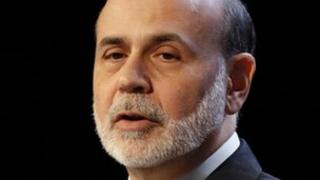 The chairman of the US Federal Reserve, Ben Bernanke, has warned that the fiscal cliff poses a "substantial threat" to economic recovery.
Congress and the White House are trying to strike a deal to weaken the impact of tax increases and spending cuts due to be implemented in January.
Mr Bernanke said politicians "will need to protect the economy from the full brunt of the severe fiscal tightening".
In a speech he also said economic growth was disappointingly slow.
It is estimated that the effects of the fiscal cliff of spending cuts and the expiry of temporary tax breaks will take at least $500bn (£314bn) out of the economy, threatening to push it into recession.
The Obama administration and Congress are also negotiating an agreement to reduce the government's huge budget deficit, which has exceeded $1 trillion for a fourth consecutive year.
Ben Bernanke commented in his speech at the Economic Club of New York that "the deficit is on an unsustainable path".
Housing market
The central banker also expressed concern that the reluctance of banks to lend was holding back the housing market, a key driver of growth.
However the latest data on the construction industry brought encouraging news on Tuesday.
The Commerce Department revealed housing starts rose to their highest level for more than four years in October, up 3.6% last month, to a seasonally adjusted annual rate of 984,000 units.
"The broad improvement in home prices, home equity, starts and inventory clearing are key developments that position the economy for stronger growth next year," said Eric Green, chief economist at TD Securities in New York.
Economists estimate that for every new house built three new jobs are created, making recovery of the sector key to the growth of the economy when unemployment remains stubbornly high at 7.9%.