Los Angeles motor show dominated by foreign carmakers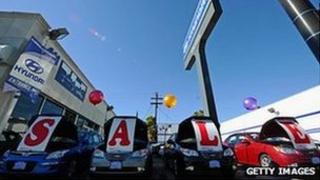 Global carmakers are heading to Los Angeles this week for an all-American motor show.
All-American, that is, in terms of its location and the customers it targets - though not necessarily in terms of who will dominate the floor.
Amongst the more than 50 new models on show, there will be an updated Forrester model from Japanese carmaker Subaru, South Korean carmaker Hyundai's new Santa Fe will have its premiere, and UK-based and Indian-owned Jaguar Land Rover (JLR) will make a splash with the US premieres of its third generation Range Rover, its Jaguar F-Type and its fastest and most powerful saloon car yet.
"This year's Los Angeles Auto show is one of the most significant US shows in years for us," says JLR's North America President, Andy Goss.
With 10 European, seven Japanese and two South Korean manufacturers unveiling new models, it is clear that carmakers based outside the US are determined to grow their sales - not just here in California, the biggest and most lucrative car market in the US, but across all 50 states.
By contrast, America's indigenous automotive giants General Motors (GM), Ford and Chrysler are keeping their powder dry until January, when they will be staging a major motor show in their home town Detroit.
Between them, the Big Three are unveiling no more than five world and two US premieres in LA.
Major shift
US carmakers have been losing ground on their home turf for years, their market shares slipping while European and Asian carmakers have gained.
"Loyalty to US manufacturers, while historically high, began to decline in 1999," according to data miner Motor Intelligence director Brad Smith.
"The most obvious change has been that the once-dominant domestic automakers have lost market share to Asian manufacturers," he says, pointing to how there has also been an "increase in loyalty to European brands, despite their relatively low share".
These days, the Big Three command 45% of the US market, with about a 10th going to the Europeans and the rest to the Asians, according Motor Intelligence data.
In California, the trend seems more pronounced than in many other US states.
At times, US-badged cars seem to be outnumbered by models from foreign rivals - although many of these cars are also manufactured in the US by their overseas parent companies.
Research confirms the first impression: European carmakers have seen their market share rise 3% during the last three years while the Detroit firms' share has slipped 2.9%, according to the Polk consultancy. Asian carmakers have seen their share of the Californian market slip slightly, down 0.4% during the period.
The shift might well be a reflection of the Californians' taste for technologically advanced cars with passable environmental credentials, rather than the sort of gas guzzlers traditionally coming out of Detroit.
But it could also be seen as an indication of a politically divided United States of America.
Political pattern
America's Big Three have done much in recent years to improve both the efficiency and quality of their cars, climbing up various reliability and fuel efficiency surveys in the process.
But it seems the word has not reached California - nor indeed Florida, Pennsylvania or New York to name but a few states where recent efforts to win back customers appear to have been in vain.
By contrast, European and Asian carmakers are finding it difficult to conquer the Midwest where there seems to be less of an appetite for their diesel powered or petrol-electric hybrid models.
In the American heartlands, pickup trucks such as the Ford F-150 or the Dodge Ram are vastly more popular than rivals from the likes of Nissan or Toyota.
And home-grown saloon cars or sports utility vehicles from GM, say, generally outsell similar models from Honda or Hyundai.
In a perhaps peculiar twist, the map of these two distinct car-buying habits seems to bear more than a passing resemblance to the political map drawn up following last month's presidential election.
Both presidential candidates aimed policies at the industry.
President Barack Obama supported carmakers' efforts to cut emissions, while his opponent Mitt Romney targeted voters with his claims that manufacturing jobs have been moving out of the US.
Beaten yet again?
Indeed, the automotive industry's importance in the US election can hardly be exaggerated.
President Obama's victory in swing state Ohio was widely attributed to his $62bn (£39bn) bailout of the motor industry during 2008 and 2009.
California also got a slice of government cash, with niche upstarts Tesla and Fisker each conditionally offered some $500m in cheap loans earmarked for the development of electric cars.
At the time, both were at the forefront of the electric vehicle movement, offering the potential for the US to become a pioneering nation in the field, though since then many of their mainstream rivals have headed in the same direction.
Yet, here, on California's roads, there seems to be great enthusiasm for Japanese, South Korean and European cars, and judging by all the ageing European and Asian models on the road, this has been so for years.
At this year's LA motor show, there will be two dozen electric or petrol-electric plug-in hybrids on show, as well as about a dozen so-called "clean diesel" and almost 20 ultra-efficient petrol-powered cars on show.
Again, the majority of the models are made by carmakers from Europe or Asia, which raises the question of whether US carmakers are in danger of being beaten, yet again, at their own game?
The Los Angeles motor show is open to the public from 30 November until 9 December.