BT will handle public calls to NI government agencies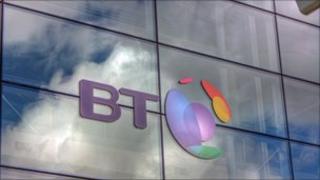 Telecom giant BT has won a NI executive contract to handle calls from members of the public to government agencies.
The aim of the £20m contract, which begins on 1 December, is to improve the public's access to government services.
It means that civil servants will no longer take calls on helplines such as the floodline.
Finance Minister Sammy Wilson said it will mean a better service for the public.
"With the contract that we have in place, we will still have the back office services for each of the departments," he said.
"BT and this contract will simply be the front line and people will be then referred to the different departments or to the services in those departments."
Members of the public will be able to get information on services such as direct debit set up for paying rates, managing information on grant eligibility and application status and providing advice on a number of government initiatives and campaigns.
The contact centre will provide telephone, web chat, e-mail, SMS text and social media services to allow people to access government through a wide range of channels.
Under the seven to ten year deal, BT will also provide support and infrastructure that will include a new payment service and software development tools to enable people to access online government services and mobile applications.