Olam shares slump on Muddy Waters claims about debt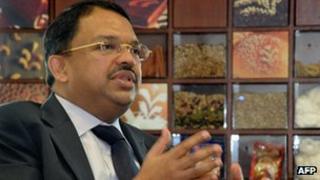 Olam International, an agricultural commodities trader, has seen its shares drop in Singapore after short-seller Carson Block raised questions about its debt levels.
Mr Block is the founder of Muddy Waters Research and his comments are closely watched and can move financial markets.
Olam has called the claims "baseless and unsubstantiated".
Its shares fell by as much as 11%. The stock had been suspended for most of Tuesday at Olam's request.
By the close of trading in Singapore, Olam had clawed back some of its declines, and the stock ended the session 7.5% lower at $1.61.
The company's shares also fell in the US late on Monday. They dropped 21% in the over-the-counter market, which books trades between investors that do not go through stock exchanges.
"We are dismayed at the nature and lack of substance of these assertions and opinions about Olam's financial position, particularly as we were not contacted in advance by Carson Block or anyone else from Muddy Waters," the company said in a statement to the BBC.
'Update as appropriate'
As well as the questions about Olam's debt levels, Mr Block also raised concerns over Olam's accounting practices and the valuations of some of its assets.
Muddy Waters is expected to publish a detailed report on Olam later on Tuesday.
"You should assume we are short [on] securities of Olam," Mr Block was quoted as saying by the Financial Times.
In a statement on Tuesday, Olam said that it would "continue to monitor media reports and other developments on this issue, and will issue updates as appropriate".
It added that it would respond "if and when Carson Block and/or Muddy Waters issues a report on the company".
Short selling
Muddy Waters is known for short-selling, a trading technique used by investors who think the price of assets, such as shares, will fall.
They borrow the asset from another investor and then sell it. The aim is to buy back the asset after it has fallen in value, at a lower price, and then return the borrowed assets to its owner.
The traders then pocket the difference between the price they sold the asset at and the price they bought it back for.
Muddy Waters rose to prominence last year after it shorted shares of the Chinese firm Sino-Forest.
It published a report raising concerns about business practices at Sino-Forest, alleging that the company inflated its revenues and exaggerated the value of its timber holdings.
That resulted in Sino-Forest's shares plunging almost 80%. The Chinese company filed for bankruptcy protection earlier this year.