Twinkies-maker Hostess Brands to hold last-ditch talks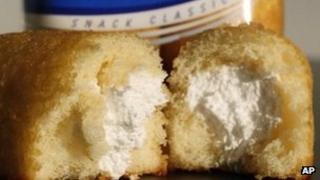 Hostess Brands, which makes Twinkies in the US, has agreed to go to mediation with lenders and unions on Tuesday.
The company was encouraged to hold more talks by a bankruptcy court, to which it had been expected to apply for permission to liquidate itself.
Hostess Brands blamed the need to liquidate on a nationwide strike by the Bakery, Confectionery, Tobacco Workers and Grain Millers Union (BCTGM).
It had sought bankruptcy protection from its creditors in January.
Monday's hearing had been expected to be the first step towards selling its well-known brands such as Twinkies, Wonder Bread, Ding Dongs and Ho Hos.
But the hearing was quickly adjourned until Wednesday as the judge urged the parties to hold private talks to find a solution.
In a short statement, the company said: "Hostess Brands Inc. announced today that it will follow a request from the US Bankruptcy Court for the Southern District of New York to enter a confidential mediation with BCTGM on Tuesday."
"Today's hearing to consider Hostess Brands' motion to wind down the company and sell all of its assets has been adjourned until 1100EST [1600 GMT] on Wednesday."
'Serious questions'
Members of the BCTGM union went on strike after workers were asked to accept pay cuts, diminished health benefits and a reduction in contributions to their pension fund from $100m (£63m) a year to $25m a year.
It also emerged that some members of the management had received 80% pay rises at the same time.
The company reached an agreement with its biggest trade union, the International Brotherhood of Teamsters, but the bakers' union stayed out on strike.
"Many people, myself included, have serious questions as to the logic behind this strike," said Judge Robert Drain, of the Bankruptcy Court in the Southern District of New York.
"My desire to do this is prompted primarily by the potential loss of over 18,000 jobs as well as my belief that there is a possibility to resolve this matter." About 30% of Hostess staff are BCTGM members.
The company's chief executive Gregory Rayburn said an agreement would have to come within 24 hours because winding down operations at the company's 33 factories was costing $1m a day.