US home sales continue to rise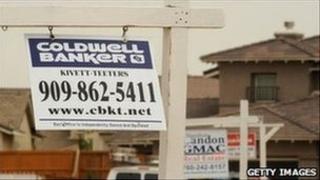 Sales of previously-owned homes in the US rose by more than expected in October, a report suggests, a sign that confidence is returning to the economy.
Sales rose by 2.1% on the previous month to an annual rate of 4.79 million, the National Association of Realtors (NAR) said.
Compared with a year earlier, sales rose by 11%.
A separate report suggested confidence among US house builders hit a six-year high in the month.
An improving jobs market and low interest rates are helping to support the housing market.
"Home sales continue to trend up and most October transactions were completed by the time [superstorm Sandy] hit, but the growing demand with limited inventory is pressuring home prices in much of the country," said NAR economist Lawrence Yun.
The average price of a home rose to $178,600 (£112,240) in October.
The survey of house builder confidence from the National Association of Homebuilders and Wells Fargo rose to 46, up from 41 in September. A year ago, the index stood at 19. Any figure below 50 suggests negative sentiment.
"The housing market is continuing to improve," said Patrick Newport at IHS Global Insight.
"It's probably improving more than most economists were projecting earlier this year."