Rag trade put under tax microscope by HMRC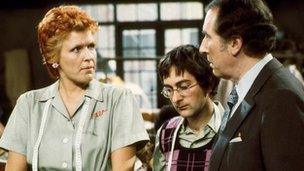 The rag trade and landlords are among the latest targets of a tax crackdown by HM Revenue and Customs (HMRC).
Taskforces will aim to recover £17m in unpaid tax from operators including those in the textile trade in the Midlands, north Wales, and north-west England.
The alcohol industry in Scotland and rental property sector in the south-east of England will also go under the microscope.
These are among 30 HMRC taskforces.
The first crackdowns started in May 2011, and have included studies of dentists and the motor trade. They are a major part of a strategy to collect an additional £7bn in unpaid tax each year by 2014-15.
"The vast majority of people play by the rules," said Treasury Minister David Gauke.
"We will not tolerate tax evasion and will crack down on the minority who choose to break the rules."
The taskforces will aim to find self-employed operators who fail to declare income and, as a result, fail to pay the tax due. They will also put businesses under the microscope.
Chas Roy-Chowdhury, of the ACCA tax body, said it was important for officials to report any issues about employee rights or health and safety that might be spotted during tax inspections.
Related Internet Links
The BBC is not responsible for the content of external sites.