Hip-hop: Love of music or money machine?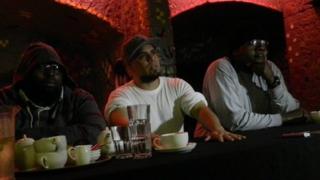 The intimate basement of Juno bar in Shoreditch is dimly lit.
Poison Pen is visibly tired and distracted by the camera flashes. Immortal Technique lightens the mood by playing a trumpet fanfare on his smartphone, while pouring Swave Sevah a cup of tea.
As far as press conferences go, it is a highly unusual affair. The three hip-hop stars are joined by Mike Banat, director of operations at Viper Records, but he does not intervene in any way. There are no demands, no question is off limits, and there is no clock watching.
In a time when hip-hop has become an integral part of the sort of big budget "urban marketing" campaigns that promote anything from booze to ballots, their approach seems alien.
But these guys are independent underground hip-hoppers, not mainstream artists. And so, they play by different rules.
"I never really relied on radio or any of these other outlets that had a monopoly on the media to dictate to me how successful I was gonna be," says Immortal Technique.
"I decided, 'You know what, I'm going to hit a hard guerrilla marketing grassroots campaign, and we gonna do it the old fashioned rock'n'roll way. Tour. Tour. Tour. Tour. And we not gonna come home. We gonna leave and we not gonna come home for months later. Exhausted. Tired. But able to feed our families and support them from the music we make.'"
Harlem and Bronx
In the US it was developed in the 1970s by the lower classes of society as their response to being excluded from the American Dream. It existed in a way which gave people inspiration that their hopes and dreams would be realised too.
Broadly speaking, hip-hop is made up of five elements; graffiti, DJ, breaking, MC, and knowledge. Each of these has developed over time, often in response to socio-economic and political trends in society.
"To me, hip-hop is the expression of the soul," says Immortal Technique.
"Hip-hop comes from sacrifice. It comes from pain. It comes from the influences of jazz and the blues. And what are jazz and the blues? Suffering. Sacrifice. The soul of the people."
But hip-hop can also be sanitised, commercialised and made very lucrative.
"When you take the soul out of the music, then you have whatever pop 'commercialness' people want to throw out," says Immortal Technique.
"Hip-hop is saying the real [stuff]. When it is not real, it is pop rap. It is happy slappy stuff."
Way of life
Hip-hop has come along way since its inception by artists such as KRS One, Cool Herc, Run DMC and Afrika Bambaataa.
White rappers, most notably Eminem, came on the scene during the 1990s, allowing Middle America to integrate fully with elements of the culture.
But there are still some important distinctions made by those who proclaim to be serious about hip-hop and its roots.
Rap, they say, is something you do. By contrast, hip-hop is a way of life.
But try telling that to the money men who enjoy a great deal of influence and make billions in the music industry.
"Hip-hop has become so embedded into the fabric of everything, to the point that almost all genres have an element of hip-hop in it," according to Grouchy Greg, owner of the website allhiphop.com.
Indeed, hip-hop's influence goes well beyond just music.
"Brands like Nike, Sprite and McDonald's have enjoyed a long-standing, authentic connection with hip-hop culture," says Erin Patton, brand management expert and author of a book on hip-hop and brands, sports and pop culture.
"Hip-hop's Midas Touch has touched virtually every industry in the US, from automotive and technology to food, spirits and apparel.
"And as 'hip-hopreneurs' have gained marketing and business savvy, they have flexed their entrepreneurial muscle to partner with brands to create signature products such as Beats by Dre, which provide them with an equity stake in the brand."
Love or money?
Thad Baron knows this only too well, as he hypes up artists to DJ Ace in the reception of 1Xtra's recording studios.
Among other things, Mr Baron has been employed as a "tastemaker" for many major record labels.
As such, it is his job to get the artists to the record labels and to make sure their music gets played on the radio.
"The only reason big record companies have always won [over independent labels] is that they have more financial economical support and power," Mr Baron says.
It is not just about the music any more.
That is a truth with serious modifications, according to Immortal Technique.
He says it is absolutely about the love of music, and not really about the money at all.
So he makes his music available for download for free, and much of the money he does make is channelled towards good causes, such as an orphanage in Afghanistan or to help those who were hit by the floods during Superstorm Sandy.
And he stays in touch with his fans.
"Harlem," he tweets to almost 150,000 followers.
"Even though you got a facelift, even though people have pimped you out, and you were recently flooded. I still miss you."