Majestic Wine sees customer numbers and profits rise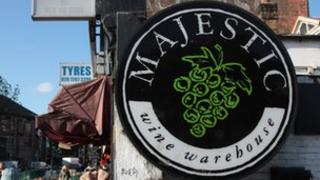 Majestic Wine has said customer numbers rose by 11.2% in the past 12 months and shoppers are paying more on average than last year, boosting its profits.
The company called the rise in customers registered on its database who had made a purchase in the past 12 months "substantial".
The average price they are paying per bottle was up from £7.13 to £7.46.
The company said its half-year profits for the six months to 1 October were 3.9% higher than last year at £9.2m.
Majestic said the result was "encouraging" against the weak economic environment and an extremely wet summer season that had led to the "cancellation of a large number of outdoor events".
The company is continuing to expand, opening nine new stores, including its first one in Cornwall, and seeing online sales grow by 14% in the six-month period.
It is also expanding into serving the catering industry, with dedicated teams selling to gastropubs and restaurants.
Sales in this field have risen by 17% and the company's chairman, Phil Wrigley, said he saw considerable potential for further growth in this area.