Universal Entertainment shares slide on payment report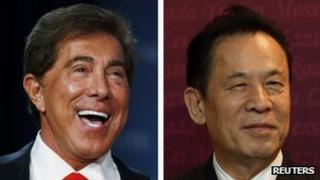 Shares in Universal Entertainment have fallen on reports that one of its affiliates made illegal payments to an associate of the former head of the Philippine gaming regulator.
The firm, Japan's biggest pachinko arcade game machine maker, is developing a casino in the Philippines.
The Reuters news agency reported that it made payments of $5m (£3m) in 2010 to win concessions for the project.
Its shares fell 11% to 1,499 yen on the Tokyo Stock Exchange.
The Philippine Amusement and Gaming Corporation (Pagcor), which regulates gambling in the country, said the issue would be discussed at its upcoming board meeting.
"There will be a resolution in the coming days on what should be done with the project," said Jay Santiago, a lawyer for Pagcor.
Meanwhile, Teddy Casino, a Philippine congressman has called for a legislative hearing on the matter.
"We will have to include new pieces of evidence unearthed by Reuters news agency that can help complete the picture of corruption in Pagcor," Mr Casino said in statement.
Universal Entertainment is owned by billionaire Kazuo Okada. This is not the first time that one of Mr Okada's companies has been accused of making improper payments to Philippine officials.
Earlier this year, Wynn Macau, which Mr Okada co-founded with Steven Wynn, removed him from the firm alleging that he made at least $110,000 in unauthorised payments to two gaming officials in the country.