Thai post-flood recovery slows as global demand cools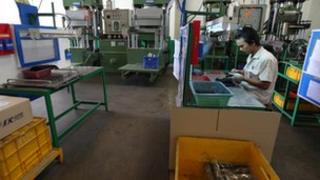 Thailand's economy has slowed in the third quarter after weak global demand dented exports to the US and Europe.
Gross domestic product increased by 3% in the three months to the end of September from a year earlier. That is down from 4.4% in the second quarter.
Exports, which account for about two-thirds of Thailand's total economic output, dropped by 3%.
However, analysts expect growth to pick up in the coming months as domestic demand offsets weaker foreign sales.
Underpinning this confidence was the fact that Thailand's rate of economic growth increased by 1.2% when calculated on a quarter-on-quarter basis, slightly more than many analysts had forecast.
Thai Prime Minister Yingluck Shinawatra has been trying to encourage more consumer spending by raising the minimum wage, extending fuel subsidies and implementing a rice-subsidy scheme.
"The moderation in growth is widely expected as export growth has moderated quite markedly and the initial impact from the flood recovery efforts dissipated," said Gundy Cahyadi, economist at OCBC in Singapore.
"But we figure that the secondary positive spillovers from the initial spike in investment seen this year are going to sustain support for domestic consumption into 2013.
"The key factor, which has kept our positive assessment on Thai growth, is the fact that manufacturers have returned to producing at their normal level domestically and that public sentiment has been fully restored after the floods."
Rate cut?
Because of this the central bank is not expected to implement more interest rate cuts in the near future.
The Bank of Thailand surprised markets by trimming its main interest rate to 2.75% from 3% on October 17.
"We believe that policy rate will remain on an easing bias, although we do not expect the Bank of Thailand to cut rate by another 25 basis points until the first half of 2013," said Usara Wilaipich, senior economist at Standard Chartered Bank in Bangkok.
However, it will take some time for domestic demand to filter through and it will only start to show up in the figures early next year.
As a result, Thailand's state planning agency also trimmed its 2012 growth and export growth forecasts amid a weak outlook for the global economy.
The National Economic and Social Development Board (NESDB) now expects full-year growth of 5.5%, the low end of its range, and reduced its export growth estimate to 5.5% from 7.3%.