Comet to close 41 stores, administrators say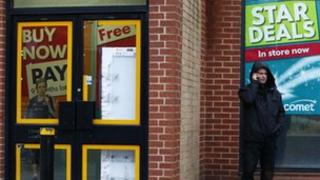 The insolvent electrical chain Comet will close 41 stores by the end of November unless a buyer can be found.
It appointed administrators earlier this month, putting 6,611 jobs at risk.
Closing down sales have begun in 27 stores and will begin in 14 more stores next week, administrators have said.
The remaining 195 outlets are expected to continue trading over the Christmas period with "generous discounts" given on products, but their future remains deeply uncertain.
The first of the store closures will begin next week, the Financial Times reported earlier.
Adminstrator Deloitte has already announced 330 job losses at Comet's headquarters and among administrative staff and there have also been reports that it is preparing to close down the retailer's home delivery operation.
"While the administrators will look to redeploy staff from any stores which do face closure to other stores nearby, there will inevitably be redundancies," Deloitte said in a statement.
"The administrators continue to hold discussions with parties who have expressed interest in parts of the business."
Comet's demise was one of the biggest High Street casualties of recent years.
The electricals chain had been hit hard by the drop in consumer spending in the UK since 2008, which has been particularly acute in the case of the big items that Comet sells.
Many of Comet's customers are first-time home-buyers, according to Deloitte, meaning that business has been hurt by the much tighter conditions in the UK mortgage market.
According to Deloitte, the company had been pushed to the brink by a cash drain caused by suppliers who had been unwilling to provide credit to Comet. Without such credit, the chain was unable to stock-up for Christmas.
Deloitte recently allowed gift vouchers bought by members of the public to be used at stores, days after suspending them, after taking time to "assess the financial position of the company".
Rival Dixons has offered Christmas jobs to hundreds of Comet staff who face redundancy.