JP Morgan and Credit Suisse pay $417m to settle securities charges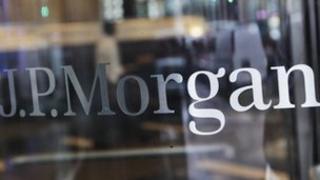 JP Morgan Chase and Credit Suisse will together pay $417m (£263m) to settle charges that they misled investors in residential mortgage-backed securities offerings, US regulators have said.
JP Morgan has agreed to pay $296.9m to settle the charges while Credit Suisse will pay $120m, the Securities and Exchange Commission (SEC) said.
Both banks agreed to settle without admitting or denying the charges.
The SEC said it plans to distribute the money to harmed investors.
The SEC said that JP Morgan received fees of more than $2.7m, and investors sustained losses of at least $37m on these undisclosed bad loans.
The bank was also charged for the failure of an investment bank it bought, Bear Stearns, to disclose its practice of obtaining and keeping cash settlements from mortgage loan originators on problem loans that Bear Stearns had sold on.
JP Morgan said it was pleased to have reached an agreement with the SEC to put these matters concerning mortgage-backed securities behind it.
Credit Suisse was accused of similar practices.
'Ground zero'
"In many ways, mortgage products such as RMBS (residential mortgage-backed securities) were ground zero in the financial crisis," Robert Khuzami, director of the SEC's division of enforcement, said in a statement.
"Misrepresentations in connection with the creation and sale of mortgage securities contributed greatly to the tremendous losses suffered by investors once the US housing market collapsed.
"Today's actions involving RMBS securities are a continuation of the SEC's strong efforts to pursue wrongdoing committed in connection with the financial crisis."
Last month, the New York Attorney General sued JP Morgan for allegedly defrauding investors who lost more than $20bn on mortgage-backed securities sold by Bear Stearns.
JP Morgan bought Bear Stearns in March 2008.
US mortgage-backed securities were the investment products that sparked the global financial crisis in 2008.
In essence, each security or bond was linked to pools of US mortgage loans, many of which were classified as sub-prime - mortgages awarded to high-risk and low-wage homeowners.
When many of those homebuyers defaulted on their mortgages as the US property bubble burst, it turned the linked securities into bad debt.
This caused losses worth billions of dollars at banks, who were forced to write down the value of their investments.
Banks around the world were affected, not just those in the US, because the securities were resold globally.