How to avoid pension 'short-changing'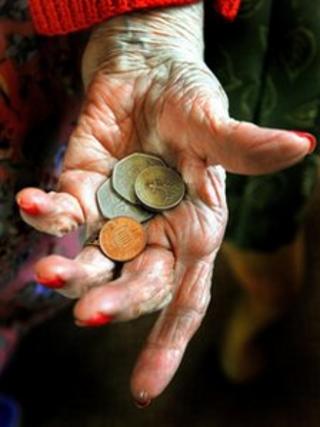 Nearly two-thirds of us could be eligible for higher pensions when we retire.
The National Association of Pension Funds (NAPF) says that thousands of people are missing out.
They do not realise that having certain medical or lifestyle conditions could significantly boost their retirement incomes when buying an annuity or annual pension.
The NAPF estimates that about half a million people retiring each year are being short-changed, by up to £1bn from their total future pension income.
Joanne Segars, chief executive of the NAPF, wants to see changes to the industry so people end up with the best possible annuity for them.
"There have been some improvements, the insurance industry have improved some of the ways it could be made easier," she says.
"But we would like to see even more improvements. we would like to see shopping around being the automatic thing that people do so that they automatically get the best annuity for them."
Surprise
The last few years have been tough on pensioners.
Rock bottom interest rates and rising inflation have eroded the value of savings across the board
It is something that is greatly worrying 64-year old Keith Thompson, and his wife Sharon, from Swanley in Kent, who are hoping to retire next year.
Keen to maximise their retirement income, Keith has been shopping around for a good annuity deal.
He was surprised to learn that being overweight could work in his favour
"I was on the internet and I was looking at pensions plans and I found that because of my height and weight I could qualify for a pension enhancement," says Keith.
"I thought it was only for sick people and it amounts to a lot of extra money and that's for life."
'Significant impact'
According to the annuity website mypensionexpert, the lowest quote, not taking into account Mr Thompson's weight, would be with Aegon, giving an income per year of £2,387.
The best quote, taking into account his weight, would secure an annuity with Partnership giving an annual income of £2,898.
The extra money you can get can varies greatly depending on your specific medical condition.
Pension adviser Fraser Smart, of Buck consultants, says many people think you need to have to have a life-threatening illness to qualify for a pension enhancement.
But that is not the case.
"People don't realise that even minor conditions could have a significant impact on how much an insurer would be prepared to pay," Fraser says.
"There is the great British reserve, where people don't want to disclose to insurers their medical information but this is the one time it could make significant difference."
Once and for all decision
Fraser Smart says people need to bear in mind that once they commit to an annuity, they will be stuck with it for life, so it is worth taking the time to shop around.
"There is a lot of choice out there, in terms of whether you have a pension that stays level for life - so you start off with a higher amount - whether you want to provide inflation protection over time, or whether you want to provide for your dependents.
"All of those influence the amount that is paid.
"There is a worrying trend that people pick the highest starting pension which is an amount that is level for life, and doesn't provide any protection for their dependents, and over time that pension will be eroded by inflation," he warns.
Companies which offer annuities could soon be forced to highlight the best rates they could offer to customers.
The Association of British Insurers (ABI), which has proposed the change, hopes this will help people approaching retirement get the best pension deal.