Asda chief Andy Clarke urges scrapping fuel duty rise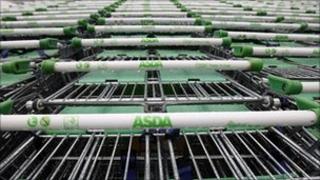 Asda's chief executive has joined calls for the planned 3p per litre rise in fuel duty to be scrapped.
Andy Clarke said January's rise would come at the worst possible time for families facing rising energy costs.
His call came as the UK's second largest supermarket, owned by US giant Wal-Mart, reported a slowdown in sales.
Like-for-like sales in the three months to 30 September, excluding fuel and VAT, rose 0.3%, down from 0.7% growth in the previous quarter.
However, the 500-store group managed to increase its market share, rising to 17.5% from 17.4% year-on-year.
Mr Clarke said these were "solid results in a tough market".
But he said that money was increasingly tight for customers, with "our latest income tracker out today showing that after a period of slight improvement disposable income is more or less flat again this month".
With households "feeling the cost of Christmas and energy price rises" this was not the time to put more pressure on spending by raising fuel duty, Mr Clarke said.
The tax increase was originally to be introduced last August, but in June the Chancellor, George Osborne, announced that he was postponing it for five months.
Mr Clarke told reporters that a survey of its customers conducted last month found they were on average £13 per month worse off than two years ago.
"Two-thirds of mums surveyed tell us they expect 2013's economy to be more challenging than this year," he said.
The squeeze on Asda's sales growth underscores other data on the economy. Earlier on Thursday, the Office for National Statistics (ONS) said that retail sales fell 0.8% in October, having risen by 0.5% in September.
Food stores reported the biggest monthly decline in sales since November 2011, according to the ONS.
On Wednesday, the governor of the Bank of England, Sir Mervyn King, warned that the UK economy may not return to pre-crisis growth levels before 2015.
Last month, Tesco reported a 11.6% fall in first-half profits, while last week Morrisons posted a 2.1% drop in underlying sales. However, this week, Sainsbury's reported a 2.5% rise in interim profits.
Asda's sales data was released as owner Wal-Mart reported quarterly sales in the US that were below analysts' expectations.
Sales rose 1.5% in the third quarter, below analysts' forecasts of 1.8%. However, net profits were up 9% to $3.6bn (£2.3bn).