Megafon seeks up to $2.3bn in share flotation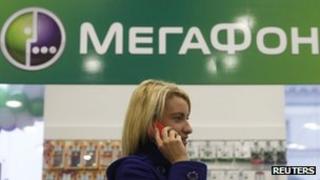 Megafon, the mobile phone operator controlled by Russia's richest man, is planning the biggest flotation since Facebook listed in New York in May.
Megafon wants to raise $1.7bn-$2.3bn (£1.1bn-£1.45bn) from a planned share listing in London and Moscow.
Shares will be priced between $20-$25 per share, valuing the entire company at $11.2bn-$14bn.
Alisher Usmanov, who took control of the firm in April, will retain a stake of more than 50% following the float.
There are 227 million mobile phone subscriptions in Russia, whose population is 144 million. This is because many people own more than one sim card.
Megafon has 63 million subscriptions and is the second biggest mobile operator in Russia behind MTS.
"I believe the level of interest we have seen in the investment community since announcing our planned IPO (Initial Public Offering) sets a strong backdrop to the announcement of our price range today and the commencement of the roadshow and institutional bookbuilding," Megafon chief executive Ivan Tavrin said in a statement.
"I now look forward to meeting prospective investors and sharing our plans to leverage our market leadership in mobile data to further drive continuing growth, cashflow and returns."
Swedish operator Teliasonera will reduce its stake from 35.6% to 25% following the flotation.
The last significant Russian float was in May 2011 when internet search group Yandex raised $1.4bn in New York.
Facebook raised $16bn when it went public.