Home rental costs still rising, says LSL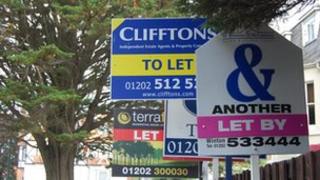 The cost of renting a home in England and Wales hit another new high in October although the pace of rent rises slowed, a survey has suggested.
LSL Property Services said that the "heat" had come out of the rental market as the quieter season for new tenants approached.
It said typical rent stood at £744 a month in October, up 0.4% on September.
Charity Shelter said that the increasing cost "piles on the pressure" for hard-pressed families.
"This news is yet more proof that life is becoming more difficult for renters. In a week when inflation figures revealed a tighter squeeze on family budgets, every rent rise piles on the pressure," said Campbell Robb, chief executive of Shelter.
"With the property ladder remaining out of reach for many, these figures are bad news for our growing population of reluctant renters."
'Seasonal slowdown'
The typical cost of renting a home in October was 3.4% higher than in the same month a year earlier, the survey said.
October's increase marked the seventh consecutive month of rent rises, although the picture differed in various areas of England and Wales.
The biggest increases were in London (up 0.9%) and the south-east of England (up 0.7%) compared with September. However, five areas saw rental costs fall, with the biggest drop in the East Midlands (down 1.8%).
"A combination of improved buyer activity and a seasonal slowdown has taken some of the heat out of the rental market as it enters the traditionally quieter final months of the year," said David Newnes, director of LSL.
"However, despite the deceleration, the fact that monthly rents rose by twice the rate seen a year ago points to the underlying strength of tenant demand."
The level of late or unpaid rent fell to the lowest level since January, equating to 8.1% of all rent across England and Wales in October.
LSL is a letting network that includes Your Move and Reeds Rains.