Insurance company CPP hit by record FSA fine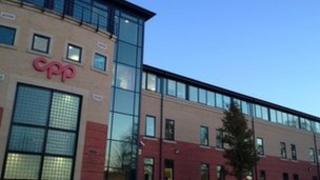 Card protection company CPP faces a bill of £33.4m after being censured by the City watchdog for mis-selling insurance products.
The bill includes a fine of £10.5m from the Financial Services Authority - the joint largest for a retail group - and £14.5m in compensation to customers.
The York-based group, which sold products aimed to protect people against identity theft, has apologised.
The FSA said sales agents were encouraged to be "overly persistent".
"This exposed a very large number of customers to the unacceptable risk of buying products they did not want or need," said Tracey McDermott, of the FSA.
Risks overstated
CPP sold a card protection product, which cost about £35 a year, that was designed to cover losses if a card was lost or stolen.
It said customers would benefit from up to £100,000 of insurance cover, but customers were already covered by their banks. Generally, cardholders are not liable for unauthorised card payments on lost or stolen credit and debit cards.
A second product was sold for £84 a year, that was designed to cover costs if the customer's identity was stolen.
The FSA found that CPP overstated the risks and consequences of ID theft when this insurance was being sold.
During the period of mis-selling between January 2005 and March 2011, CPP sold 4.4 million policies and generated £354m in gross profit, the FSA said.
Some 18.7 million policies were renewed during the same period, generating an income of £656m.
Some card providers put a sticker on new credit or debit cards sent to customers. It encouraged them to call a number, which was CPP's, in order to confirm receipt of the card. CPP then used the opportunity of the call to offer card protection insurance.
However, this fine from the FSA does not include this and only relates to the hundreds of thousands of direct sales by CPP.
'Sorry'
The FSA investigation also found that:
Sales agents were encouraged to be "overly persistent" even after customers said they did not want to buy the cover
Agents were given targets to talk customers out of cancelling their policy
CPP unfairly took payment from the card that was earmarked for protection, with insufficient consent of the customer
The company failed to stop agents from telling customers to buy cover on the basis they had two weeks to cancel the policy
New CPP chief executive Paul Stobart said the company had taken steps to overhaul its practices.
"We are deeply sorry for the errors and wrongdoings of the past and are paying a heavy penalty through what is a large fine," he said in a statement.
"The next steps for the team are to complete the transformation programme and to rebuild our business and our reputation in the market."
It has adhered to a FSA request to stop sales of the insurance products, unless they are part of a package. It has also stopped trying to retain the business of customers who ring to cancel their policies.
Customers now have a 60-day cooling off period to change their mind over buying the insurance, compared with a 14-day option previously.
Details about compensation for customers are still being discussed by CPP, some of its main business partners, and the FSA. Some customers will be written to by CPP.
The FSA has agreed to CPP paying the fine in instalments, owing to the company's financial position. It has been told to complete the payments by December 2014.