Online shopping technology faces OFT focus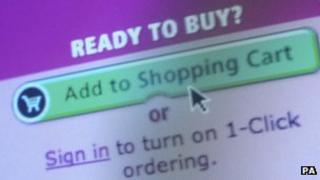 UK regulators have begun seeking information on how firms may be monitoring online shoppers in order to target them with different prices.
The Office of Fair Trading (OFT) will consider how consumer data is collected and if any activities could be illegal.
The OFT said it wanted to gather more information in order to assess if the area needs investigating.
OFT chief executive Clive Maxwell said the ways in which data is collected and used was evolving rapidly.
"It is important we understand what control shoppers have over their profile and whether firms are using shoppers' profiles to charge different prices for goods or services," he said.
The OFT said it wanted to hear from any interested parties, including online retailers and software providers, and would publish its findings in spring 2013.
It will be consulting with international regulators, including the US Federal Trade Commission, on commercial uses of consumer data.
Businesses have sophisticated technology to monitor online behaviour, collect information about shopping habits and websites visited, and the services consumers have looked at.
Internet shopping is one of the retail sector's few growth areas, with the Office for National Statistics reporting on Thursday that online sales were 11% higher in October than a year earlier.
The OFT said it wanted to consider whether consumers understood and were aware of how their information was used when they go online, and whether some firms' activities were illegal.
Mr Maxwell said: "Innovation online is an important driver of economic growth. Our call for information forms part of our ongoing commitment to build trust in online shopping so that consumers can be confident that businesses are treating them fairly.
"We know that businesses use information about individual consumers for marketing purposes. This has some important potential benefits to consumers and firms. But the ways in which data is collected and used is evolving rapidly."