Utility RWE raises its outlook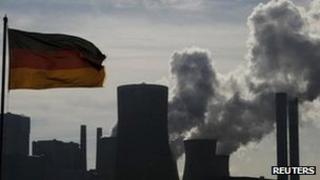 Germany's second-biggest utility company, RWE, has slightly raised its outlook for the current year.
It has said that core earnings will at least match last year's level, having previously said they would be stable.
The company reported net profit for the first nine months of 2012 of 1.9bn euros ($2.4bn; £1.5bn), up 33% from the same period last year.
The change in outlook is in contrast to RWE's rival E.On, which issued a profits warning on Tuesday.
E.On said that its "previous 2013 forecast no longer seems achievable", blaming "substantial economic uncertainties".
"Our performance over the first three quarters of the current financial year has been quite good," said RWE chief executive Peter Terium.
The company, which owns Npower in the UK, has used disposals to pay off debt, including selling its stake in UK nuclear joint venture Horizon.
Germany's utility companies have been selling assets to offset the effects of the government's decision to phase out the use of nuclear power following the Fukushima crisis in Japan.
French utility company EDF has also been keeping the markets informed.
It reported nine-month sales of 52bn euros, up 10.2% from the same period last year.
EDF said it expected to meet its profit targets for the current year but warned "deteriorating business conditions" would lead to profits being "stable" in 2013 before growing again the following year.
In its UK business, EDF benefited from the stronger pound against the euro, which increased the value of its sales.