SSE sees half-year profits rise 38.3%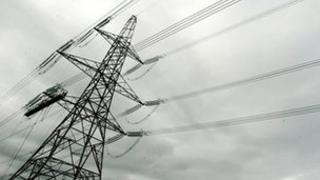 SSE, one of the UK's biggest energy suppliers, has seen half-year profits surge by 38.3%.
The company made £397.5m in the six months to the end of September, compared with £287.4m in the same period last year.
SSE, in line with other major energy suppliers, put up its domestic gas and electricity prices by an average of 9% one month ago.
The firm said in its statement that the increase reflected market conditions.
Lord Smith of Kelvin, chairman of SSE, said the market remained "challenging" and that "higher gas and non-energy costs unfortunately had to be reflected in the increase in household energy prices".
SSE was the first of the major suppliers to raise its prices, which the company said was due to price pressures outside its control. Lord Smith defended the move.
"While some observers may choose to criticise SSE for making a profit and paying a dividend," he said, "I believe that profit and dividend allow SSE to employ people, pay tax, provide services that customers need, make investments that keep the lights on and create jobs, while providing an income return that shareholders like pension funds need."
'No loss-leaders'
SSE estimates that it lost about 115,000 customers - or 1.5% of the total - during the six months. During a conference call with reporters, chief executive Ian Marchant said that about three-quarters of that loss was perhaps due to SSE putting up its prices first.
He blamed some of the customer switching on rival power suppliers offering attractive introductory deals to lure customers. "We don't offer loss-leader products," he said.
The company also said that the jump in profits was partly the result of customers turning up their heating during April and September.
The two months were unusually cold compared with the same period in 2011, when temperatures were above average.
But these explanations have not stopped criticism of the profits and price rises from union leaders and consumer groups.
"It is chilling that companies such as SSE should announce these enormous half-year profits when families are being forced to take the hit for yet another massive price hike," said Mike Jeram, head of business and environment at the Unison trade union.
Richard Lloyd, executive director of consumer group Which?, said the government should set up an independent review to look at whether recent price increases were justified.
"Without greater scrutiny of energy prices, consumers simply will not believe that they are getting a good deal," he said.
Adam Scorer, of watchdog Consumer Focus, said: "Energy companies need to make profit so they can invest in our energy infrastructure. But if confidence is to be rebuilt in this market, the information that all energy firms are required to provide must be fully transparent, comparable, and include profit and trading information from across the whole of their business."
Gary Hornby, an energy analyst at Inenco, said that wholesale gas and power prices were on the rise and investment in cleaner forms of generation remained costly, with these costs being passed on to consumer.
Investigation
SSE's announcement comes at a time when the gas industry is under investigation by regulators amid allegations that firms manipulated the wholesale gas market.
On Tuesday, Energy Secretary Ed Davey said he was "extremely concerned" at the allegations and would apply the "full force of the law" if needed.
All of the UK's big six energy suppliers, including SSE, have denied any involvement. Mr Marchant repeated on Wednesday that his company operated in a "fair and legitimate way".
He said that UK regulators had not yet contacted SSE for any information, but added that the company would co-operate in any way it could.
SSE used to be called Scottish and Southern Energy.