Sainsbury's profits rise 2.5% to £405m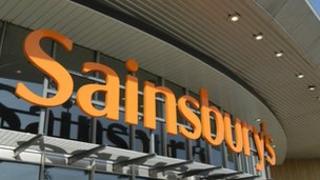 Sainsbury's has posted a 2.5% rise in half-year pre-tax profits to £405m, with its market share growing to 16.7%, the highest in almost a decade.
The UK's third largest supermarket group said sales, including VAT and fuel, rose 4% to £13.36bn in the six months to 29 September.
Strong growth in the online operation and convenience stores boosted sales.
Chairman David Tyler said the figures demonstrated a strong performance in a "challenging market".
Sainsbury's said it had now seen 31 consecutive quarters of underlying sales growth. Last month, market leader Tesco reported a fall in profits. Asda is due to post its third-quarter figures on Thursday.
The online business is growing at more than 20%, with grocery orders regularly exceeding 165,000 a week, Sainsbury's said in a statement. The convenience stores business is expanding by one to two outlets each week.
Asked if the group's expansion in the convenience market was pushing out traditional corner shops, chief executive Justin King told the BBC that "good retailers, whatever they sell, can thrive in this market".
He said that there were some 50,000 corner shops in UK, while Sainsbury's now had 490 convenience outlets. Customers were generally choosing to buy smaller weekly shops and top up in convenience stores, he said.
The general merchandise and clothing business is growing three times faster than its food business on the back of a drive for greater market share in these sectors.
Mr King said the better sales and profits were down to the company's focus on product quality and service standards.
Richard Hunter, head of equities at Hargreaves Lansdown Stockbrokers, said that although the UK economic outlook was on a knife-edge, the Sainsbury's figures showed that the company was maintaining its positive trajectory.
But he added that Tesco was in the midst of a substantial investment programme and remained the market leader by some distance.
Sainsbury's shares were down 1.5% in early trading on Wednesday.