US government deficit rises sharply in October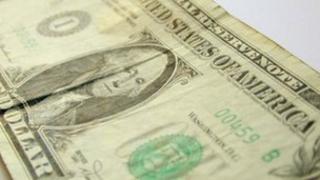 The US government's budget deficit rose sharply in October, highlighting the financial challenge President Barack Obama faces following his re-election.
The deficit increased 22% from a year earlier to $120bn (£75bn) as government spending outpaced tax revenues.
It comes as politicians debate how to deal with the so-called fiscal cliff of automatic tax increases and spending cuts due to take effect in January.
The White House and Congress are trying to agree a more orderly deficit cut.
The deficit is the amount by which government spending exceeds its tax revenues, with the government needing to borrow the difference.
On Tuesday the US Treasury Secretary, Timothy Geithner, warned against extending all of the tax breaks that are due to expire in January as a way of giving Washington more time to broker a deal on the deficit.
Mr Geithner claimed doing this would create more uncertainty in the financial markets.
"It will leave a different source of uncertainty, which is what's going to give people the incentive to come back and do something tough," he said.
Among the measures due to expire are the income tax cuts for high income earners originally introduced by former President George W Bush, which have been vociferously defended by Republicans in Congress.
"The government needs to increase its revenues, and it needs to cut its expenses," Jim Lebenthal, a fund manager in New York, told the BBC. "It's not an either/or.
"There's no way that one side of that equation can carry the day, not with the size of the deficits we have."
The US government accumulated a total budget deficit of $1.1tn in the last fiscal year, that ended in September, or 7% of GDP.
That was lower than the previous year, but still very high by historical standards.
According to the non-partisan Congressional Budget Office, if the White House and Congress can reach a budget deal that extends the tax cuts and avoids reductions in spending, the deficit will be about $1 trillion for this budget year.