Home Depot profits 'from US housing market recovery'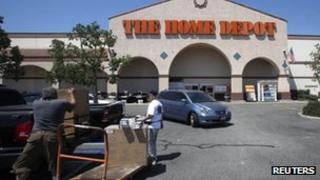 Home Depot says it made a small rise in quarterly profits, thanks to signs of recovery in the US housing market.
The US home improvement chain made a net profit of $947m (£596m) in the three months ending 28 October, up from $934m a year earlier.
Home Depot chief executive Frank Blake said the results showed "the start of the path towards the healing of the housing market".
Its revenues were up 4% to $18.1bn.
Home Depot's same-store US sales - which exclude new store openings - rose 4.3% from a year earlier.
The company's net profit equated to 63 cents per share. Home Depot said it would have been as high as 74 cents, were it not for a one-off charge caused by the closure of some of its Chinese stores.