Royal Mail profits rise as parcels business grows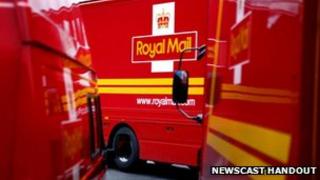 Royal Mail has reported a big rise in half-year operating profits, helped by growth at its parcels delivery business as more people shop online.
Operating profits for the six months to 23 September rose to £144m, up from £12m a year earlier.
Its core UK letters and parcels unit reported an operating profit of £99m, compared with a £41m loss last year.
Royal Mail chief executive Moya Greene said the "turnaround of the UK business is well under way".
Revenues from UK parcel deliveries were up by 13%, while parcels now account for 47% of revenue across the group.
The rise in parcel deliveries is helping to offset the decline in the number of letters being sent.
Letter volumes were down 9%, although revenues rose 2% after stamp prices were increased earlier this year.
"Royal Mail has experienced the negative impact of e-substitution, which is driving the structural decline in the traditional letters market," Moya Greene said.
"Conversely, we are seeing the positive impact that online retailing is having on our parcel volumes."
Royal Mail said that "preparations are now underway" for the firm's sale, adding that the "structure and timing of a transaction is a matter for the government".
Earlier this year, the European Commission approved the nationalisation of the Royal Mail's pension scheme.
The decision was seen as a key step towards selling some of the business to private investors, as it meant it would not be weighed down by its huge pension scheme liabilities.