House prices: Variations in UK market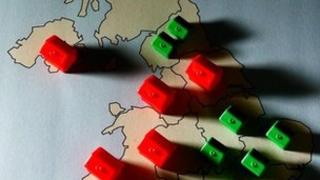 Regional differences continue to dominate the UK housing market despite a relatively stable picture overall, two surveys have suggested.
House prices rose by 5.2% in the year to September in London, the Office for National Statistics (ONS) said.
However, property prices fell by 10.1% over the same period in Northern Ireland.
Meanwhile, surveyors reported that buyer demand rose across the UK, except in Scotland and Northern Ireland.
'Perfect storm'
The ONS figures suggested that UK house prices rose by 1.7% in the 12 months to September.
This included a 1.8% growth in prices in England, a 1.6% increase in Wales and a 0.9% rise in Scotland, but a 10.1% drop in Northern Ireland.
Overall, in the month from August to September, there was a fall in property prices of 0.2%.
More surveyors reported a fall rather than a rise in prices over the three months to the end of October in England and Wales, the Royal Institution of Chartered Surveyors (Rics) said.
This trend was expected to continue in the coming months, the survey showed, although Rics said that there were signs of increased buyer demand.
"The number of potential buyers going out and viewing property saw a welcome boost last month," said Ian Perry, Rics housing spokesman.
"That being said, overall activity is still very low in most parts of the country and what the market desperately needs is for this to translate into actual sales."
A separate report has claimed that the rising cost of renting a home, the insecurity of tenancies, and the financial squeeze on families is increasing the chances of people become homeless.
The National Housing Federation has claimed that this "perfect storm" was pushing more families into staying in bed and breakfast accommodation.