Rugby Football Union reports £6.3m loss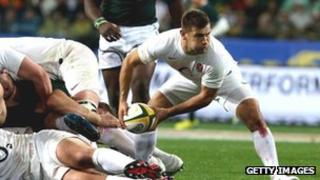 The Rugby Football Union (RFU) has reported a loss of £6.3m in the last financial year as a result of fewer games being played at Twickenham.
The RFU expects to lose money in a World Cup year, because there are no autumn internationals and only two home games in the Six Nations.
The governing body of English rugby sets aside money for three years to cover expected losses in the fourth.
England will be hosting the Rugby World Cup in 2015.
"We have both solid financial foundations and security for many years to come and plan our finances on a four-year Rugby World Cup cycle," said RFU chief executive Ian Ritchie.
"In this way, we continue funding every level of the game in fallow years, thanks to the profits we build up over the other three."
Mr Ritchie expects record turnover in the current year.
Its report for the year to 30 June showed it had revenue of £116.6m, down from £136.3m the previous year, when it had reported a profit of £8.7m.
The RFU has recently announced plans for a £76m upgrade to Twickenham Stadium ahead of the World Cup.