Why is America's fiscal cliff more worrying than Europe's?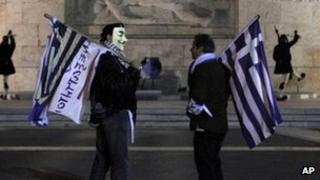 Like many European politicians, finance ministers meeting in Brussels on Tuesday are worried about the US heading over a fiscal cliff next year. For good reason, you might say: given a fragile recovery, all of us in Europe are now unusually dependent on US growth.
As I discussed last week, there's reason to expect a solution to America's cliff, though not necessarily a pretty one.
The big questions now are whether Congress and the president will reach a deal before, or soon after, the Bush-era tax cuts expire at the end of the year; and whether rich households end up paying higher marginal tax rates, or just getting fewer deductions. Republicans seem resigned to smaller deductions, but not to higher rates.
But critics of eurozone austerity programmes can't help seeing a rich irony in German politicians fretting about accidental tax rises and spending cuts in the US. Aren't they the ones who've been insisting that large parts of the eurozone head over their own fiscal cliff, entirely on purpose?
Think about it: America's budget deficit in 2012 will be 8.7% of GDP in 2012, according to the IMF. That's higher than any country in the eurozone and nearly three times their magic 3% limit.
What is more, the IMF reckons that nearly seven percentage points of that US borrowing is structural - it won't go away with economic growth. That is a larger structural budget hole than any of the troubled eurozone economies, including Portugal and Greece.
Portugal's structural hole is just over 3% of GDP - half the size of America's. Encouraged by its eurozone partners, it is now planning budget cuts worth even more than that, in 2013 alone. The Greek programme that was debated last night by eurozone ministers involves spending cuts and tax rises worth 7% of GDP in 2013-14, the majority in the first year.
This will be the third year of steep budget cuts for most of these countries, yet policy makers in Brussels, Frankfurt and Berlin think it the bare minimum to maintain market confidence. Why, say the critics, do the same officials think it would be such a disaster for the world economy if America finally started to do the same in 2013?
One answer that economists might give is that European policy makers are conflicted on the subject of fiscal austerity and growth.
Remember those new estimates from the IMF of the "fiscal multiplier" - the amount that a given amount of budget cuts can be expected to cut growth?
Neither the European Commission nor the IMF itself has incorporated these new, higher estimates in its forecasts for Spain and the rest. That suggests that these economies will do even worse in 2013 than the commission or the IMF expects. Remember the Fund overestimated growth in the eurozone this year by a full two percentage points.
For example, the latest forecasts from the commission predict that the Spanish economy will shrink by 1.4% in 2013, but many independent forecasters expect much worse. And the average private forecast for Portugal is that its economy will shrink by 2.3% next year - not 1%, as the commission now expects.
But there's another, more sympathetic explanation why European leaders seem less worried about Europe's fiscal cliff than America's: they just don't see an alternative.
The European Commission, the ECB and the rest think that America can afford to sort out its fiscal problems gradually - but the likes of Portugal and Spain cannot. These countries may be throwing themselves, repeatedly, over a fiscal cliff. But as long as neither eurozone taxpayers nor the global financial markets are willing to finance their current borrowing, the feeling is that austerity and recession are the best they can do.
Is this path really the best of a bad lot? Negotiations over the Greek programme are bogged down on precisely this point.
European officials are resigned to the idea of giving Greece another two years to meet its debt and deficit targets. But neither the Germans nor anyone else seems willing to pay to tide Greece over in the meantime. So the wrangling is set to continue, for at least another few weeks.
In the meantime, you can see why Americans might think it showed some nerve on the part of the Europeans. In effect, Europe's politicians are telling the US government that it needs to keep borrowing to support global growth - even though, when it comes to their own economies, they are doing the exact opposite.