Premier League boss Scudamore in football business message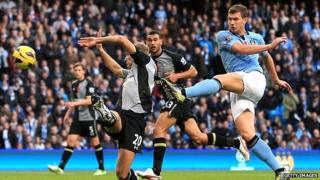 The Premier League is continuing its growth as a leading UK export brand, with major TV contracts recently in football outposts as diverse as the US, Brazil, and China.
Deals for the Middle East and north Africa as well as south-east Asia and Australia are also close to completion, and a tranche of European deals are also set to be finalised by the end of the year.
All this comes on top of a major hike in the value of home-based television rights this summer, when a major coup was achieved in selling the UK-based rights to BSkyB and BT for £3.018bn, marking a rise of 70% on the present deal which ends next summer.
As well as the home TV deals for future live coverage, the Premier League has secured £178m from the BBC for Match of the Day highlights. It is also on track to surpass the £1.4bn it garnered in its current overseas broadcast deals.
'Compelling'
The league's chief executive Richard Scudamore told the BBC website that no-one, least of all himself, knows for how long TV deals can keep rising or by how much.
"We had a significant uplift in the UK deals this time round, but as far as overseas ones go, it is a game of two halves - we are only halfway there at present," he says, referring to those parts of the world where deals have yet to be signed off.
"But we are doing well - as long as the football remains compelling then I don't see any reason why the world won't want to continue to watch us.
"We have a good spread of English and overseas talent, and if we stay competitive then the commercial take will continue to grow."
Premier League football action is shown in 212 countries around the world, which Mr Scudamore says makes it a "a big and important economic entity" for the UK, as well as being one of its leading exports.
"We as football also make a big tax contribution to the UK economy," he adds, alluding to the current controversy about how much tax is paid in the UK by big transglobal enterprises operating in the UK such as Google, Amazon or Starbucks.
"We are an iconic British business, when you look at the large numbers of people employed, and other things we do such as community schemes.
"The government recognises the role we play, and is very supportive."
'Life skills'
Mr Scudamore was talking to the BBC at one of those community schemes, the finals of the Premier League Enterprise Academy (Plea) challenge.
The event is the annual climax of a programme set up in 2008 to help teach the basic principles of business and self-employment to 11 to 19-year-olds
The challenge sees a team of youngsters present their ideas on a football-themed challenge set by Mr Scudamore, and is designed to get young people thinking practically about business.
The programme was created by the Premier League in conjunction with clubs, the Professional Footballers' Association, Regional Development Agencies, schools and football club community partners.
Pupils from 18 schools - representing and supported by their local clubs - took part in the 2012 challenge (12 from the Premier League and six from the Football League), addressing a brief from Mr Scudamore about how to improve football club customer service.
"Most people end up working for somebody, whether it is in the private or public sector - although I don't like that distinction - and you are going to need to have life skills, and to be able to think out ideas, be creative and work hard," says Mr Scudamore, who took the Premier League reins in 1999.
"Something like this challenge, when you see the enthusiasm with which the young people tackled the task, is setting them up for the future."
He said that football had the power to make people "sit up and pay attention" and that clubs could be used to get across things like mathematics, literacy and business skills to young people.
Living within means
One mathematical figure which has been taxing those in football is the high ratio of Premier League club income that goes on player wages, more than 70% according to Deloitte research in season 2010-11, the last for which data is widely available.
"That figure is the average across all clubs, the majority of clubs are within sensible percentages," says Mr Scudamore.
"There are some 'outliers' which change the overall figure, but that is a stable situation," he says.
Clubs which splashed out on staff wages in 2010-11 were Man City, with 114% of its income going on pay, Aston Villa at 103%, and Chelsea at 84%.
He said that while he wanted to see clubs live "within their means", he was not against them spending on big names if it was funded by extra revenues becoming available to them, whether from TV or other income sources.
Those that do not balance spending with income are in danger of falling foul of Uefa's Financial Fair Play (FFP) regulations designed to make clubs only spend what they bring in from football business activities.
Meanwhile, the Premier League is mulling over bringing in its own version of FFP, as the Football League has done.
"We have been looking at what we might do to improve financial regulation - that might take some form of break-even," says Mr Scudamore.
"If clubs are going to make a loss then we need to check if that is sustainable and if their owners have a long-term vision. Our biggest responsibility is to make sure that clubs are run sustainably for the long term."