Investigation into alleged manipulation of gas prices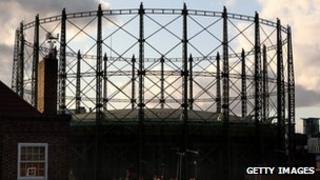 Allegations of manipulation of UK wholesale gas prices are being investigated by the Financial Services Authority (FSA) and Ofgem.
The investigations by the FSA, the UK's financial watchdog, and energy regulator Ofgem follow claims by a whistleblower.
Energy Secretary Edward Davey said he was "extremely concerned about the allegations".
"The government takes alleged abuse in our markets very seriously," he added.
Four of the UK's big six energy suppliers have released statements to deny any involvement.
The wholesale gas price is the cost to the energy providers of the gas they buy from the wholesale gas market. This market includes everything from the UK's own North Sea gas supplies, to gas piped into the UK from continental Europe, and gas arriving in the UK by ship as liquefied natural gas.
The alleged manipulation is said to have lowered the wholesale price, and as such does not imply any knock-on impact on the retail price paid by customers.
'Considering evidence'
The Guardian newspaper, which received a separate tip-off from the whistleblower behind the allegations, said the investigations was into "some of the big six" energy providers, but the brief statements released by both Ofgem and the FSA do not name any companies.
The FSA said: "We can confirm that we have received information in relation to the physical gas market and will be analysing the information."
Ofgem also said it had "received information" and was looking into the issue. It added that it would "consider carefully any evidence of market abuse that is brought to our attention as well as scope for action under all our other powers".
Mr Davey said he would keep in close contact with the two investigations.
He will make a statement on the issue in the House of Commons on Tuesday.
Labour's shadow Energy Secretary, Caroline Flint, said that if the reports prove true, they "suggest shocking behaviour in the energy market, that should be dealt with strongly."
She said the Opposition recommended that gas and electricity companies should be forced to sell the energy they generate into a pool, in order to open up the market and ensure fairer consumer prices.
The whistleblower, Seth Freedman, worked at ICIS Heron, a financial information company that publishes energy price reports.
ICIS Heron said it "detected some unusual trading activity on the British wholesale gas market on 28 September 2012, which it reported to energy regulator Ofgem in October".
It added: "The cause of the trading pattern, which involved a series of deals done below the prevailing market trend, has not yet been established.
"If anyone was to benefit from this it would have been derivatives traders."