Mortgage lending sees slight pick-up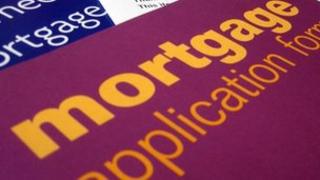 Activity in the UK housing market has continued to pick up slightly despite some monthly fluctuations in the figures, a lenders' group has said.
There were 146,500 mortgages advanced for house purchases in the third quarter of the year, the Council of Mortgage Lenders (CML) said.
This was 13% higher than the previous quarter and similar to the same period a year earlier.
However, the number of loans advanced in September dropped sharply.
Some 44,400 loans were advanced during the month, a 17.6% drop from a "strong" August, the CML said, and 9% down on September 2011.
"While lending in September was slow after a particularly strong August, quarterly figures suggest that the underlying picture is more positive," said CML director general Paul Smee.
Previously published figures from HM Revenue and Customs have shown that the number of home sales in the UK has risen by 9% in the first nine months of the year, compared with the same period in 2011.
Many commentators have suggested that lending could pick up further as the Funding for Lending scheme gathers pace. This makes £60bn available for banks to borrow in the first phase of the scheme, which began on 1 August, which in turn can be lent to householders and small businesses.
So far this appears to have been heavily concentrated on cheap mortgage deals for people with very large deposits to put down.
"Monthly fluctuations in lending volumes make it difficult to get a clear picture of what is happening in the market so the quarterly statistics are much more useful, painting a more positive picture," said Mark Harris, of mortgage broker SPF Private Clients.
"The mortgage market is still constrained but is showing signs of easing. Money market rates are falling as the Funding for Lending scheme continues to have an impact on pricing."
The CML figures show that, on average, first-time buyers still need to provide a deposit of 20% of a home's value.