Airline SAS to cut jobs and pay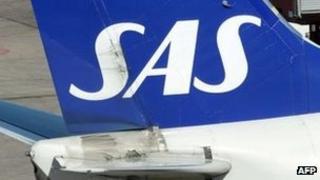 Loss-making airline SAS is to cut jobs, pay and pensions and sell some assets as part of a deal to secure loans from banks and Nordic governments.
It has announced it is cutting 800 jobs. It will also be selling its ground handling unit and the regional airline Wideroe.
The measures will cut the number of workers at SAS from 15,000 to 9,000.
The credit to the airline depends on it securing union approval for the job cuts and wage cuts.
"This truly is our 'final call' if there is to be a SAS in the future," said SAS chief executive Rickard Gustafson.
The loans from seven banks and the governments of Denmark, Sweden and Norway will be worth 3.5bn Swedish kronor ($519m; £326m).
Staff will have to agree to take pay cuts of up to 17%, with cabin staff pay being cut by an average of 12%.
The airline will also have to take steps to reduce the deficit on its pension scheme, which is expected to show a large shortfall as a result of accounting changes.
It has not made a full-year profit since 2007 and has predicted a pre-tax loss for the current year.
It has struggled with competition from low-cost rivals, as well as its regional competitor, Norwegian.