Boaden and Mitchell to stand aside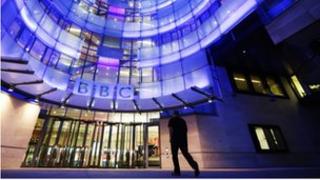 Helen Boaden and Steve Mitchell have been asked to surrender all their responsibilities as head and deputy head of BBC News, pending the results of the Pollard inquiry, I have learned.
The new acting director general of the BBC, Tim Davie, and the chairman of the BBC Trust, Lord Patten, have concluded that BBC News needs a new clear line of management control.
They have asked Fran Unsworth, head of Newsgathering, and Ceri Thomas, editor of the Today Programme to fill their respective roles, for the time being.
Mr Davie and Lord Patten are understood to believe that Ms Boaden's and Mr Mitchell's decision to withdraw from all decision-making on the way the BBC reports the Jimmy Savile scandal has created confusion at BBC News about who is in charge.
There is likely to be widespread anger within BBC News at what will be seen as a pre-empting of the results of Nick Pollard's investigation into why Newsnight abandoned an investigation into Jimmy Savile's paedophile activities last December.
The decision to ask Ms Boaden and Mr Mitchell to stand aside will be rooted in the results of this weekend's investigation into a later journalistic mistake by Newsnight, its broadcast 10 days ago of allegations that a senior Tory was involved in child abuse.
However, neither Ms Boaden or Mr Mitchell were in the decision-making chain that led to Newsnight's broadcast.
Newsnight
As I understand it, the senior editorial figure who signed off the broadcast, Adrian Van Klaveren, will today return to his job as controller of BBC Radio 5 Live.
Over the weekend, I consulted colleagues on what they thought ought to be the consequence of the latest debacle at Newsnight.
Many said they believed Ms Boaden and Mr Mitchell ought to be put firmly back in charge of news, because of the perception that they would never have permitted the latest child abuse story to have run on Newsnight.
As for what the Pollard review may conclude about the conduct of Ms Boaden and Mr Mitchell, I understand that Peter Rippon - the suspended editor of Newsnight - does not believe he was put under pressure by either Ms Boaden or Mr Mitchell to pull the Savile investigation.
Any criticism of them is therefore likely to be for the long delay in correcting a blog by Mr Rippon about Newsnight's failure to run the Savile film.
My understanding is that Mr Davie believes it is unfair to ask Ms Boaden and Mr Mitchell to continue in their day jobs with the shadow of the Pollard inquiry hanging over them.
He believes that George Entwistle's effectiveness as Director General was undermined by the fact he too was being probed by Mr Pollard. Mr Entwistle resigned on Saturday.
I have learned that lawyers acting for Ms Boaden and Mr Mitchell have informed Mr Davie that they are quite capable of running BBC News, even with the uncertainty created by the Pollard inquiry.